14 November, 2020
Natural Stone Options for Your Fireplace Surround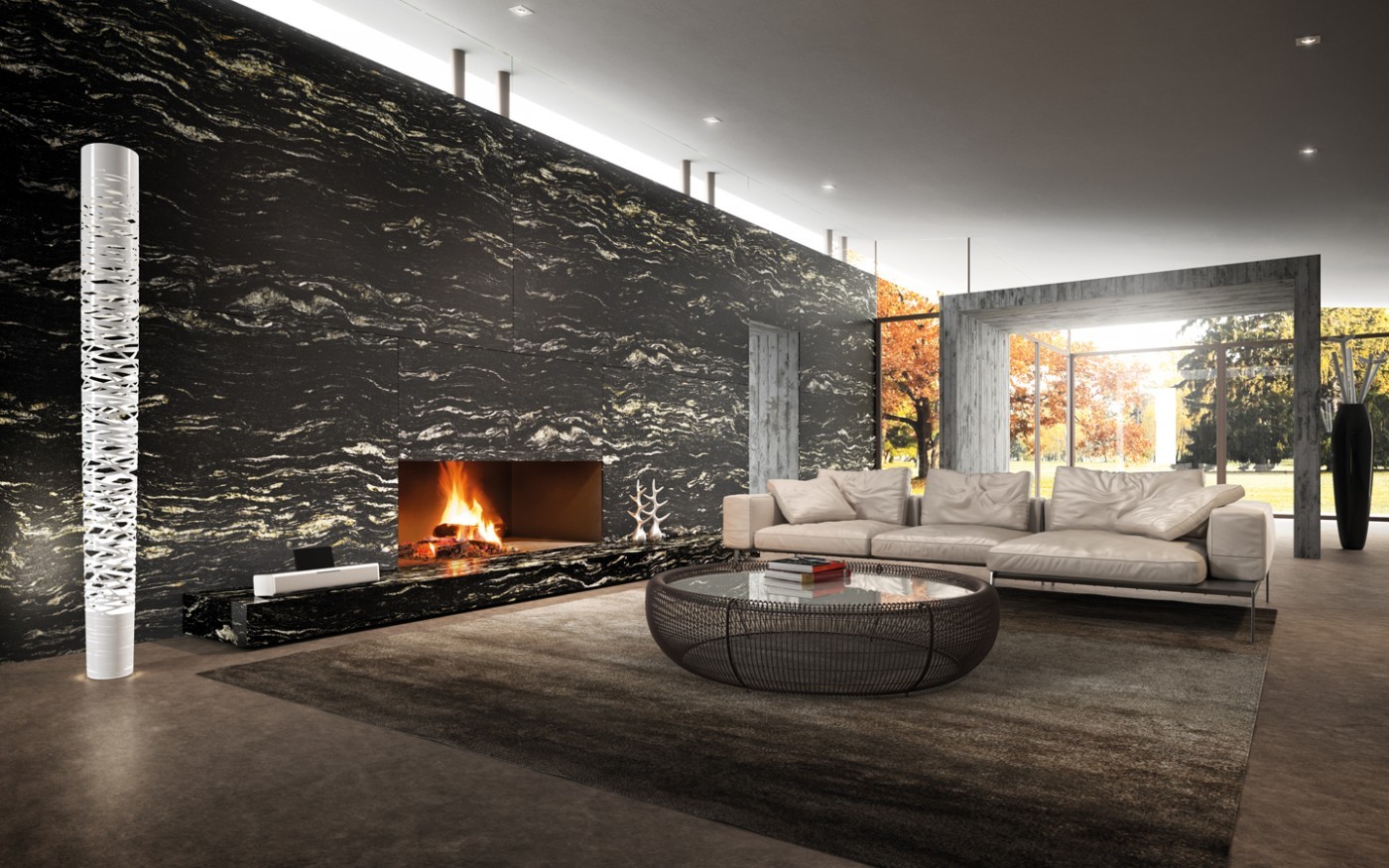 It's that time of year again. As temperatures drop and the spirit of the holidays starts to captivate us all, the thought of relaxing in front of a roaring fire with a cup of hot cocoa gets more and more appealing. It could be, however, that you've been sitting in front of the same fireplace for too many years in a row and it's starting to lose its luster. Perhaps you're thinking of enhancing it with a beautiful natural stone surround to really make it stand out and provide you with a new dose of holiday cheer.
Whether you're planning a fireplace renovation, building a new one or are just curious about what natural stone options are out there, this article is for you. We're going to provide some examples of different types of stone fireplace surrounds and let you see them in action so you have a good idea of what's available.
Granite
A true natural stone classic, granite is a great fit as a fireplace surround. Like all the materials covered in this article, it is completely heat-resistant but it's also very easy to clean and maintain. When it comes to aesthetics, granite has a lot more options than you may think but overall, it tends to be fairly plain. This is far from a downside if you're looking for something subtle to complement other design elements that won't dominate the whole room.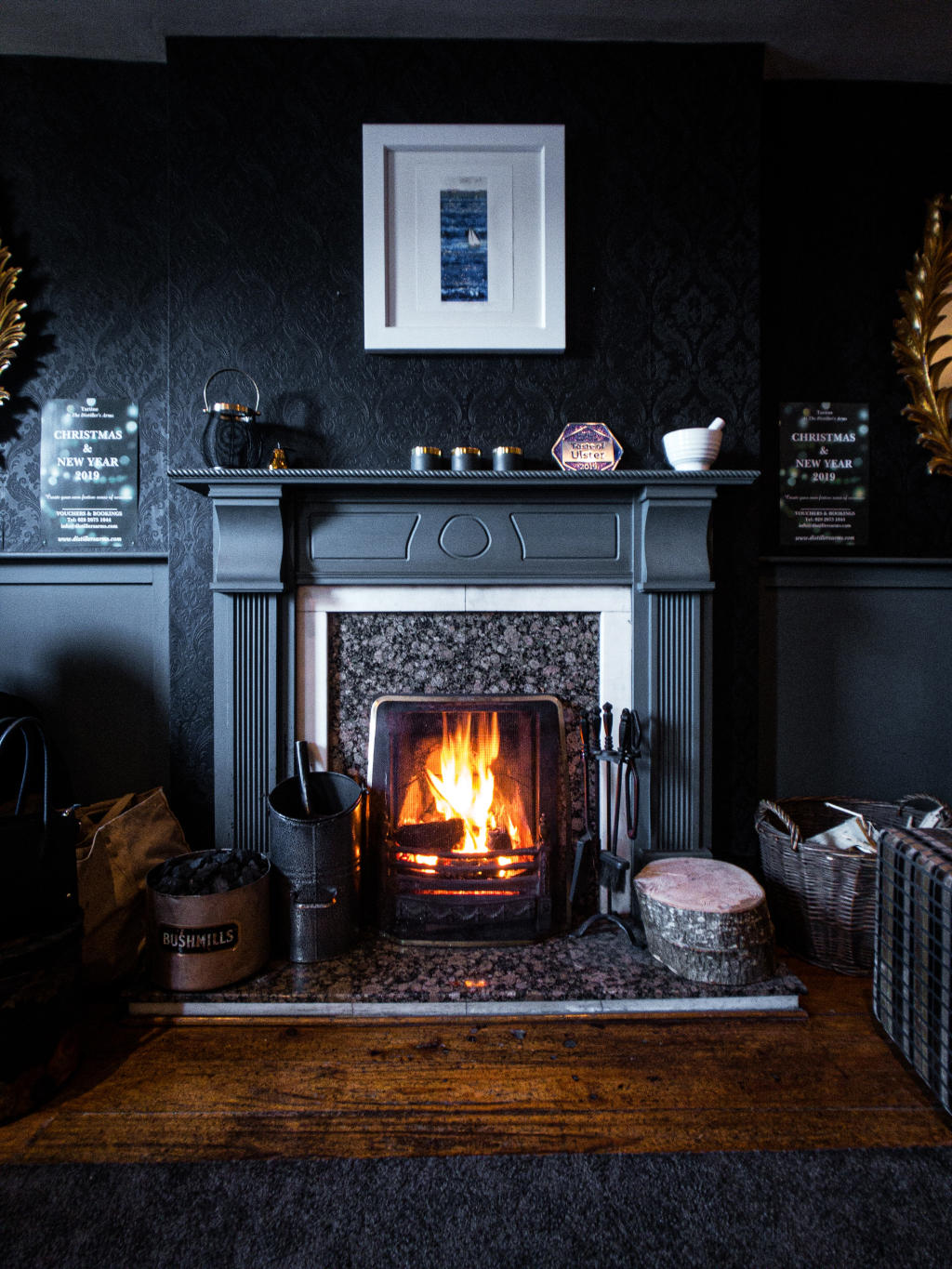 Granite makes for a subtle and reliable fireplace surround
Quartzite
Quartzite is a natural stone that causes some confusion due to the fact that its name is similar to the manufactured material quartz. We wrote an in-depth article describing the differences between the two here so you can fully understand the pros and cons of both materials. When it comes to a fireplace surround, quartzite can provide the same durability as granite but with a wider variety of options for colors and patterns.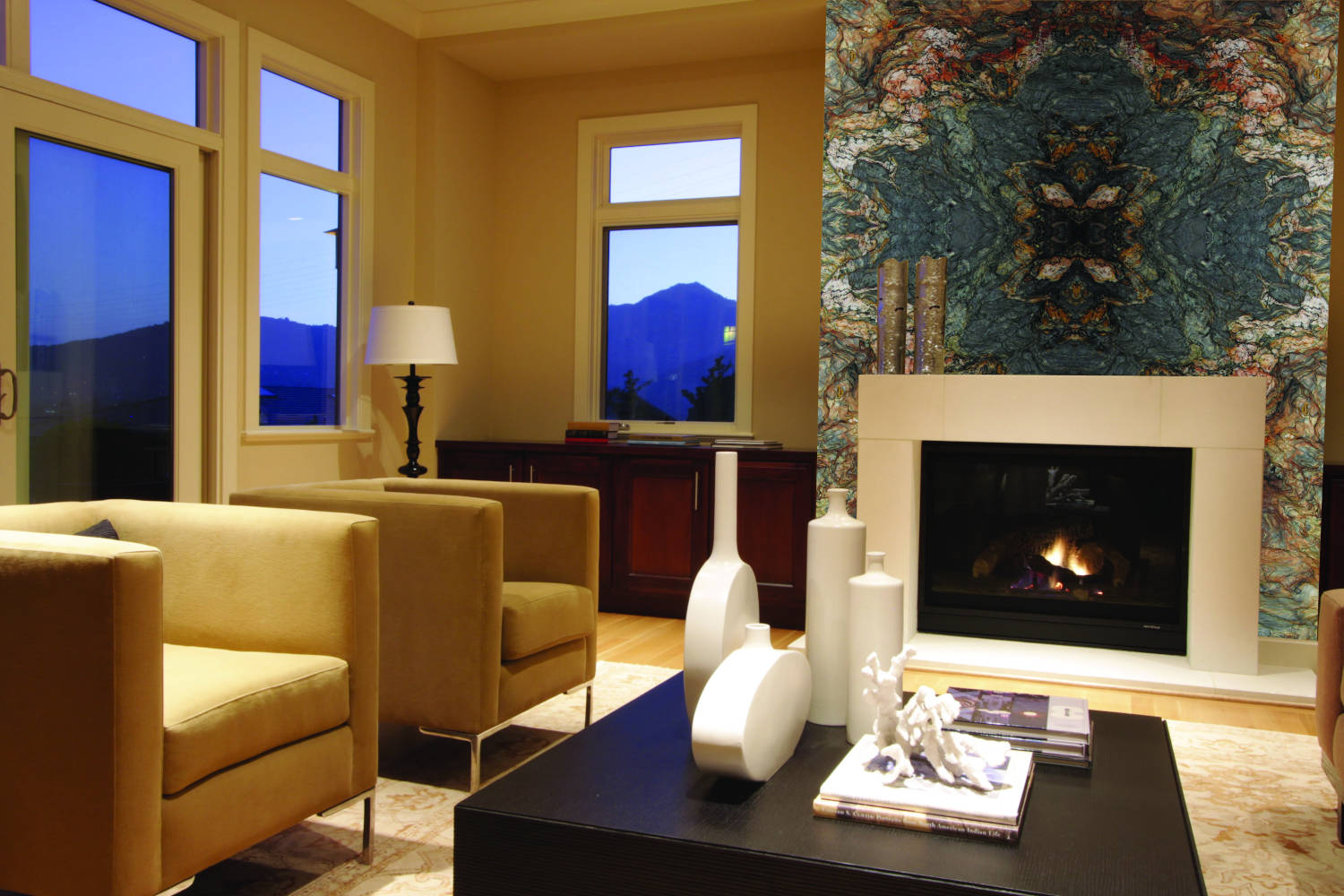 Fusion Quartzite makes a real impact in a living room
Travertine
If your tastes are more aligned with softer shades and you aren't keen on going overboard with dramatic colors and high-impact patterns, travertine can create an inviting atmosphere that's perfect for gathering around the fireplace. Its only real downside is that it generally only comes in tones of brown and beige but it has a charming, rustic appearance and so if you enjoy that look, travertine is the right option for you.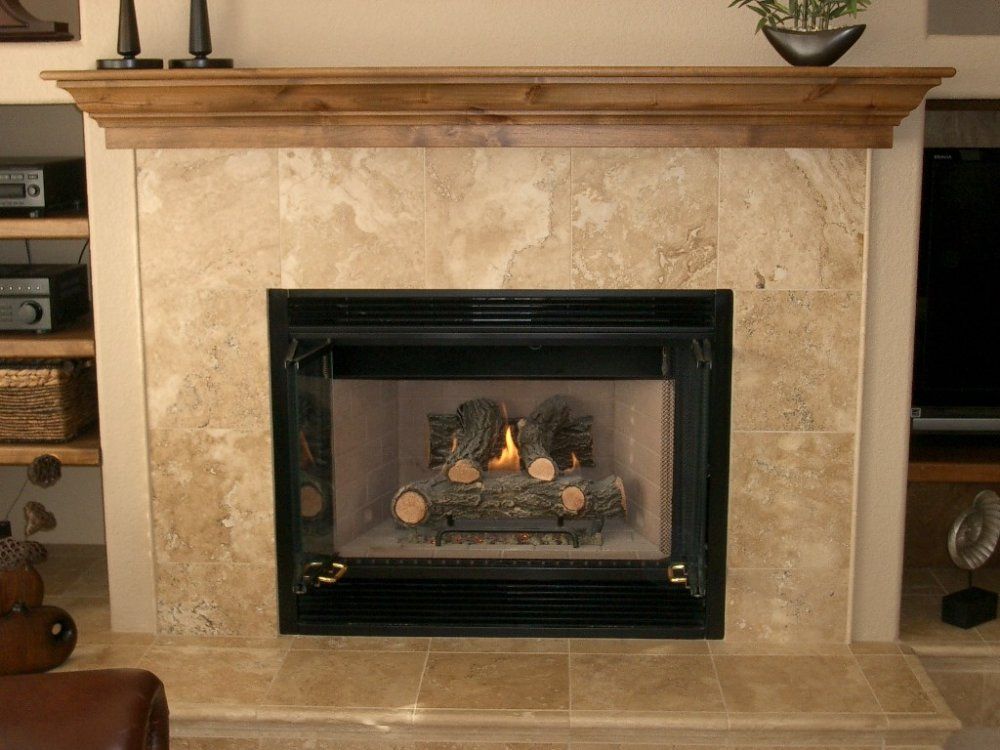 Travertine creates a warm and inviting atmosphere
Marble
A truly marvelous stone, marble is known for its stark white base color and dramatic veining. These characteristics make it an ideal option for those who want to embrace drama and luxury when it comes to their fireplace surround. Any time you've seen a show-stopping fireplace surround that really impressed you, whether in person or online, chances are it was the unique characteristics of marble that made an impression.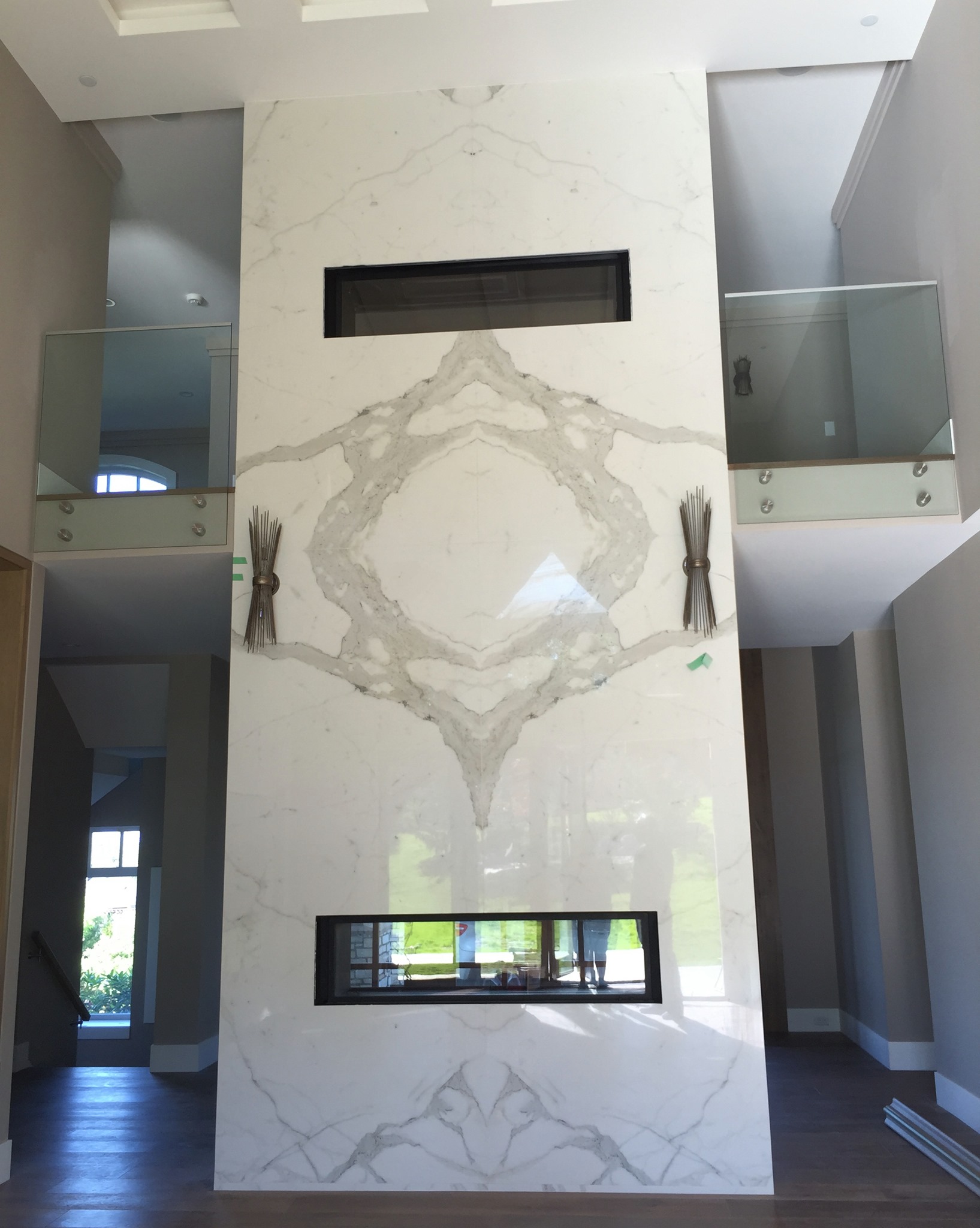 Calacatta Marble makes a luxurious and dramatic statement
Onyx
In terms of drama and luxury, there is only one stone that can match or even surpass marble and that is onyx. An exotic stone that creates a landscape of otherworldly fantasy, onyx is what you're after if want to make your fireplace the center of your universe. As if it wasn't dramatic enough, onyx is a translucent stone, so you can really ramp up the wow factor by backlighting it.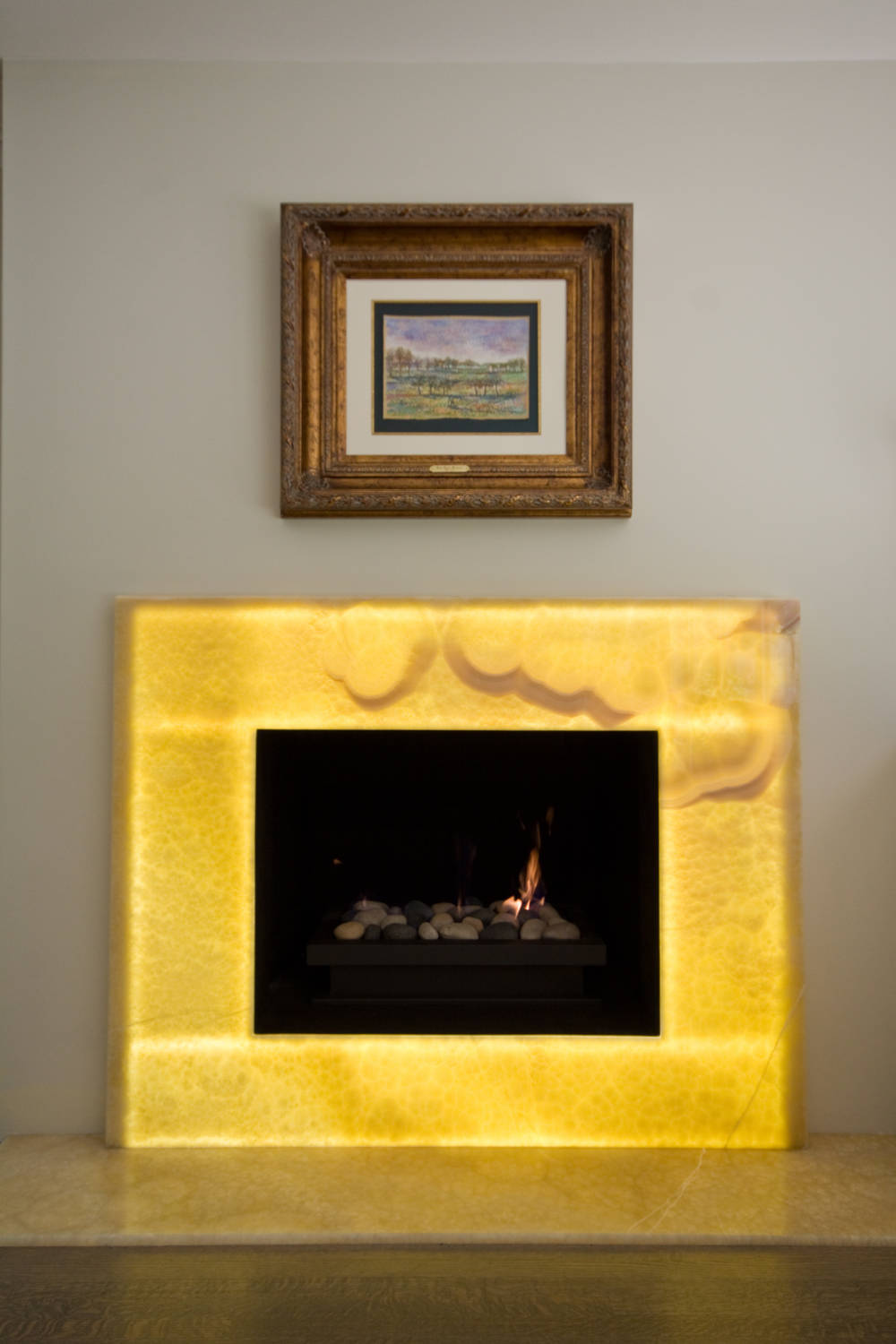 Backlit onyx has a wow factor that is sure to impress
Conclusion
Now that you've seen some of the great natural stone options available for your fireplace surround, it's up to you to determine which type of material is best suited to your unique tastes. At our showroom here at Hari Stones, we carry a wide variety of options in all the natural stone we've covered here. Feel free to stop by one of our locations in Canada to see, feel and experience our stone slabs for yourself.
Written by Jesse Day, Inside Sales @ Hari Stones