25 June, 2018
Why Marble is so Popular Across the Creative Spectrum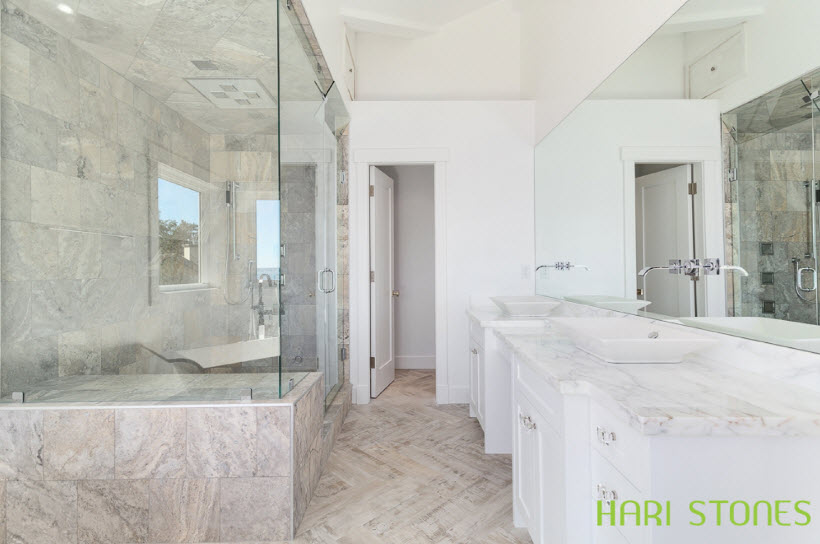 At Hari Stones Limited, we have long appreciated the unrivaled beauty of marble slabs. Marble is a metamorphic rock that has been used for centuries, due to its elegant appearance and structural qualities.
Marble is found all over the world: Europe, North America, and Asia. It has a vein-like pattern that comes in different soft shades,as a result of the minerals and salts deposited inside. This particular pattern is unmistakable, and people immediately recognize marble when they see it.
Today we're going to take a look at what marble has been used for over the years and why it is just as popular today, in the form of marble slabs, tiles, and other forms, as it was with the Ancient Greeks.
Sculptures
Marble is an extremely popular material among artists creating sculptures. The instantly recognizable Venus de Milo is carved from marble. Although not every part of her has survived the years – her arms are notably missing – the beauty of this carving still lives on through the ages. Another famous marble sculpture is David by Michelangelo, the famed Renaissance artist. Created using world-renowned Italian marble, this statue still brings throngs of tourists to Venice every year.
Buildings
Marble has been used in construction for a long time. Some buildings are created entirely using a specific type of marble, while others are clad in fine marble. Perhaps the most famous example of a marble-clad building is the Taj Mahal. Built by an emperor for his wife, this mausoleum has a while outer and interior shell made from stunning Indian marble. This site is considered one of the 7 Wonders of the World, thanks to its magnificent marble slabs and tiles construction.
Interiors
Marble is still hugely popular today and you will witness it in some of the greatest interior designs. Top five-star hotels often feature marble slabs on the floors and stairs of their lobbies. Marble slabs frequently pop up in kitchens too and can be used as countertops. In interiors, marble slabs signify luxury and they are found in some of the most sophisticated bathrooms, as they convey a sense of tranquility and relaxation.
Fashion & Accessories
Like many other stones, marble has also infiltrated the fashion and accessories industry. Marble itself is often used in jewelry while marble inspired patterns featuring the distinctive veins have appeared on clothing, as well as other textiles, such as homewares. Because marble is such a classic and timeless material, fashionistas know that buying something featuring or inspired by this stone will be stylish for a long time to come.
If you would like to incorporate marble slabs into your home, then we encourage you to get in touch with Hari Stones Limited. We have a wide selection of marble slabs from all over the world that are guaranteed to add some luxury to your building. Visit one of our showrooms in Vancouver, Kelowna, Edmonton, or Calgary today to see just how special our marble slabs are and discover just why the rock is so popular with artists and other creative types.