11 August, 2020
Using Porcelain in Your Home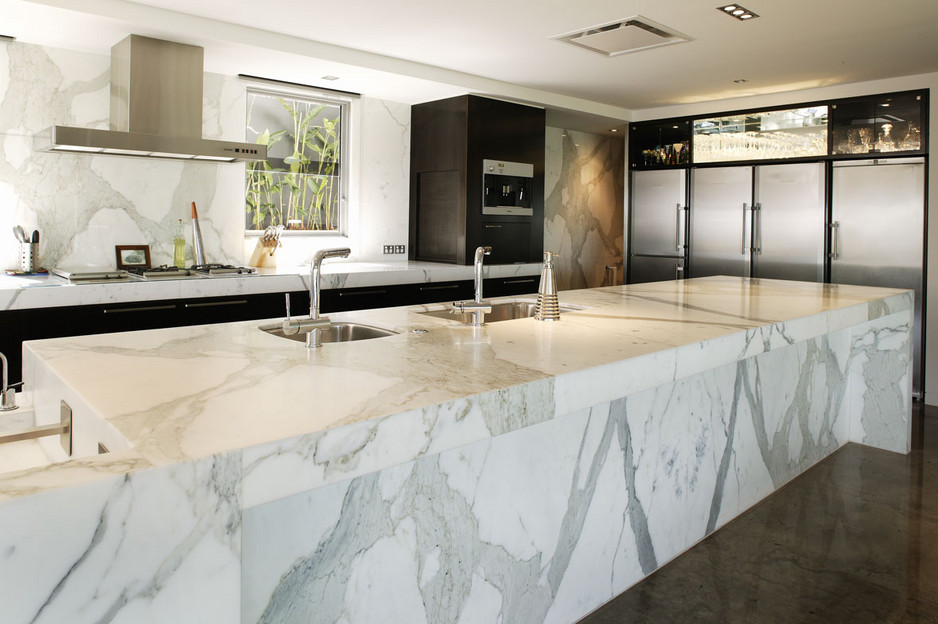 The Evolution of Porcelain
Porcelain is being used more than ever for interior design and its true versatility is coming to light. Not just for bathrooms anymore, porcelain is seeing use on countertops, backsplashes and floor tiles in both commercial and residential projects.
Although a manufactured stone, some of the designs imitate marble surprisingly well and overall, porcelain's aesthetic is considered by many to be superior to quartz, another popular manufactured stone product.
Let's take a look at the unique characteristics that make porcelain a great choice and talk about some reasons why it can be an all-star player for your home application.
What is Porcelain?
Porcelain is a ceramic material comprised of clays, feldspar, silica and most notably, a mineral called kaolin. Most porcelain has a color ranging from grey to pure white and after being fired at its ideal temperature of 1,400 degrees Celsius, takes on a translucent, glass-like quality.
The known history of porcelain dates back over 2,000 years ago to China where it was used to craft cups, plates, statues and more. Once these Chinese pieces were discovered in Europe, potters from that region went to work attempting to create their own version and in 1704 a physicist from Germany, Ehrenfried Walther von Tschirnhaus, finally came upon the ideal formula.
Besides its obvious use for pottery, tiles and other interior applications, porcelain is also used for jewelry, laboratory equipment and electric insulation. It is the densest and most durable ceramic material available which is an element that adds to its diversity when it comes to practical application.
Why Choose Porcelain?
When it comes to home applications such as countertops, most people are surprised to hear that porcelain is a viable option. Here are some reasons why porcelain can be the perfect choice:
Heat resistant: as porcelain fires at a very high temperature in its formation, it is nearly impervious to heat from pots and pans. Although it's always better to err on the side of caution, you can generally place steaming-hot items on its surface and not worry about etching or burning that can occur in a material such as quartz.
Durable: although much thinner than its natural stone counterparts, porcelain is 30% more durable than granite. As long as you're mindful of not dropping heavy objects on it, you don't have to be concerned about cracking or chipping in day-to-day use.
Water resistant: with some porous stones such as marble, you need to seal it and be very conscientious of cleaning up spills immediately. Porcelain has no such issue, being a non-porous material with a water absorption rate of less than 0.5%.
Great alternative to marble: if you want the look of marble without the need for high maintenance and the concern over etching and scratching, there are a lot of porcelain slabs on the market that imitate marble veining beautifully.
Versatility: Due to the relatively thin size of porcelain slabs, they can be applied in a variety of ways. Countertops, backsplashes, wall panels and decorative accents are just some of the possibilities.
No need to seal: Unlike the majority of natural stones, porcelain requires no sealing as the glazing and firing process that solidifies it acts as a barrier that protects the slabs from moisture and acidic liquids.

Porcelain and Ceramic: What's the Difference?
There is often confusion on the differences between porcelain and ceramic, particularly when it comes to tiles. Although they are similar materials in some ways, porcelain definitely emerges as the victor in a side-by-side comparison.
Firstly, porcelain is more impervious to water infiltration due to its density and surface smoothness, which prevents penetration.
Secondly, there is the issue of aesthetics. While ceramic maintains a fairly uniform appearance from piece to piece, porcelain is remarkably adept at imitating a variety of natural stones, from marble to travertine. It can even act as a fine replica of wood grains if that's a look you find appealing. Porcelain also comes in a wider variety of colors, patterns and surface finishes meaning you'll be able to find the right porcelain to match practically any room in your home.
Finally, and perhaps most importantly, porcelain also comes out ahead when it comes to overall durability. It is both denser and less porous than ceramic, meaning it is less prone to chipping and cracking.

The Future of Porcelain
The use of porcelain for interior design and stone fabrication is on the rise and most industry experts predict this upward trend will continue moving forward. Quartz is certainly a cost-effective option but when it comes to a manufactured material that ticks all the boxes, whether you're a homeowner or interior designer, nothing matches the beauty and diversity of porcelain.
Hari Stones carries a wide diversity of porcelain slabs and tiles, come visit one of our locations in Western Canada to see our selection for yourself and decide if porcelain is the right fit for your next project.
Written by Jesse Day, Inside Sales @ Hari Stones Ltd.