10 November, 2020
Soapstone Countertops: Pros and Cons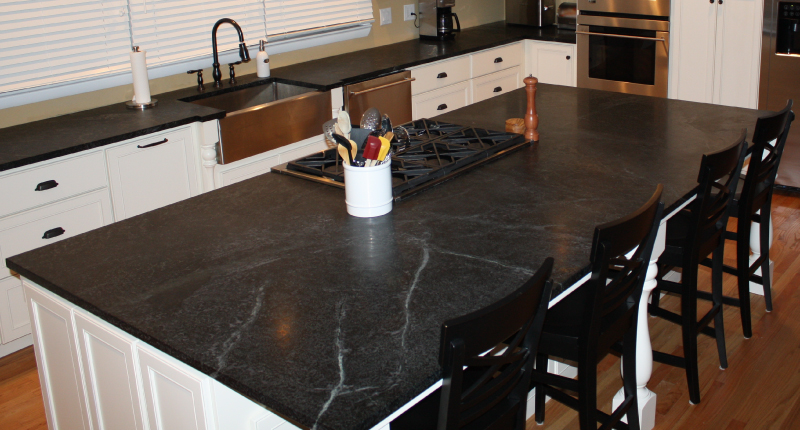 You may have heard a lot about natural stones such as granite, quartzite and marble but you may not have heard as much about what sometimes feels like the black sheep of the stone family, soapstone. Not much is known about soapstone and for this reason, it often gets left to the wayside as a choice for countertops in favor of its more popular siblings.
The truth is, soapstone is a practical, affordable and versatile choice for countertops that will perform exceptionally once installed. This article seeks to shed light on what makes soapstone so great while also exploring some of the reasons you might not want to use it so you can be fully informed before deciding if soapstone is the right option for your countertops.
Advantages of Soapstone Countertops
Natural Stone Beauty
One of the major advantages of soapstone is that it really is the perfect representation of that natural stone look that is so sought after by homeowners. Although some might see it as rather plain-looking, for those who really admire soapstone's rustic appearance, there really is nothing else like it. Each slab is totally unique and it exudes a natural charm that can complement the other design elements in your kitchen beautifully without being overbearing.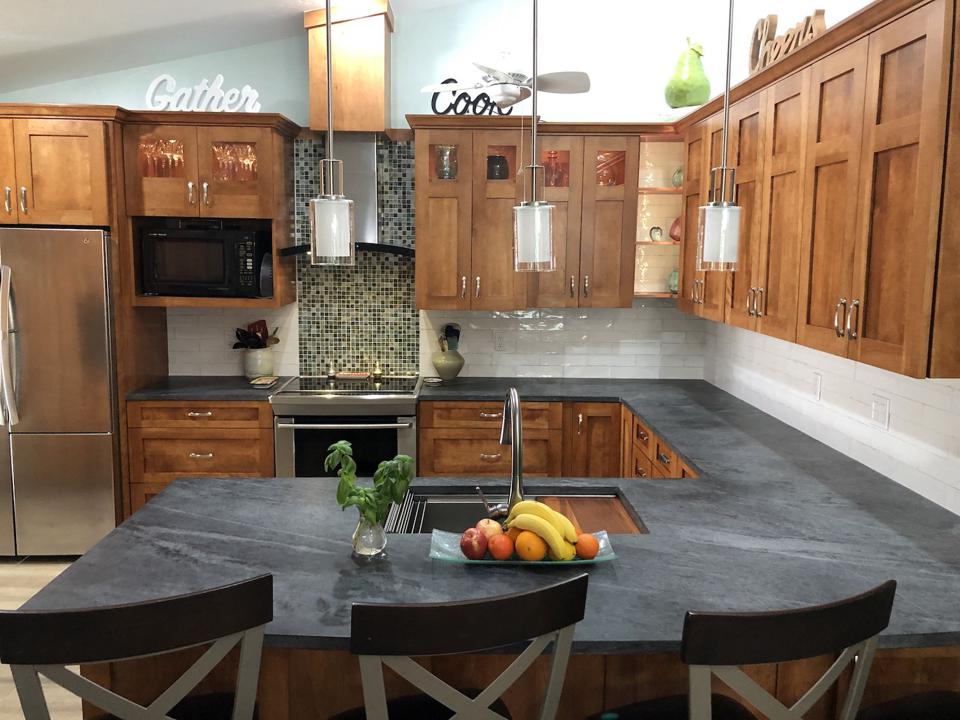 Soapstone exudes a rustic charm (photo courtesy of Creative Soapstone)
Doesn't Stain
Unlike other natural stone such as marble and granite, soapstone is practically immune to staining as it is a non-porous material. This means you don't need to seal it and you also don't need to worry about a mishap in the kitchen leading to long-term frustration due to an unsightly stain. This also means it doesn't react to acidic substances such as wine, coffee, vinegar and citrus so you can breathe easier when using these liquids in your home. In fact, soapstone is used in scientific laboratories around the world for this very reason and if it can perform under the duress of experimentation with a variety of materials in a lab setting, it will definitely perform in your kitchen.
Heat-Resistant
Another characteristic that makes it an all-star in the kitchen, soapstone is impervious to heat and won't etch or discolor if you place a steaming-hot pot or pan on its surface. For those who cook a lot, especially at higher temperatures, soapstone is the perfect option.
Resistant to Cracking
The soft and pliable nature of soapstone can be a bit of an issue when it comes to scratches and dings but it really helps preserve the overall structure of your countertop. The softer nature of soapstone makes it resistant to cracking and so it will have a very long lifespan once installed.
Green Building Material
Soapstone is a renewable resource that is extracted in a way that doesn't cause permanent damage to the earth, and that's a huge plus. No chemicals are used during the extraction and manufacturing process and it can be recycled and repurposed if you decide to replace it with something else in the future. With a lot of focus these days on how we can all reduce our carbon footprint, using soapstone is a step in the right direction.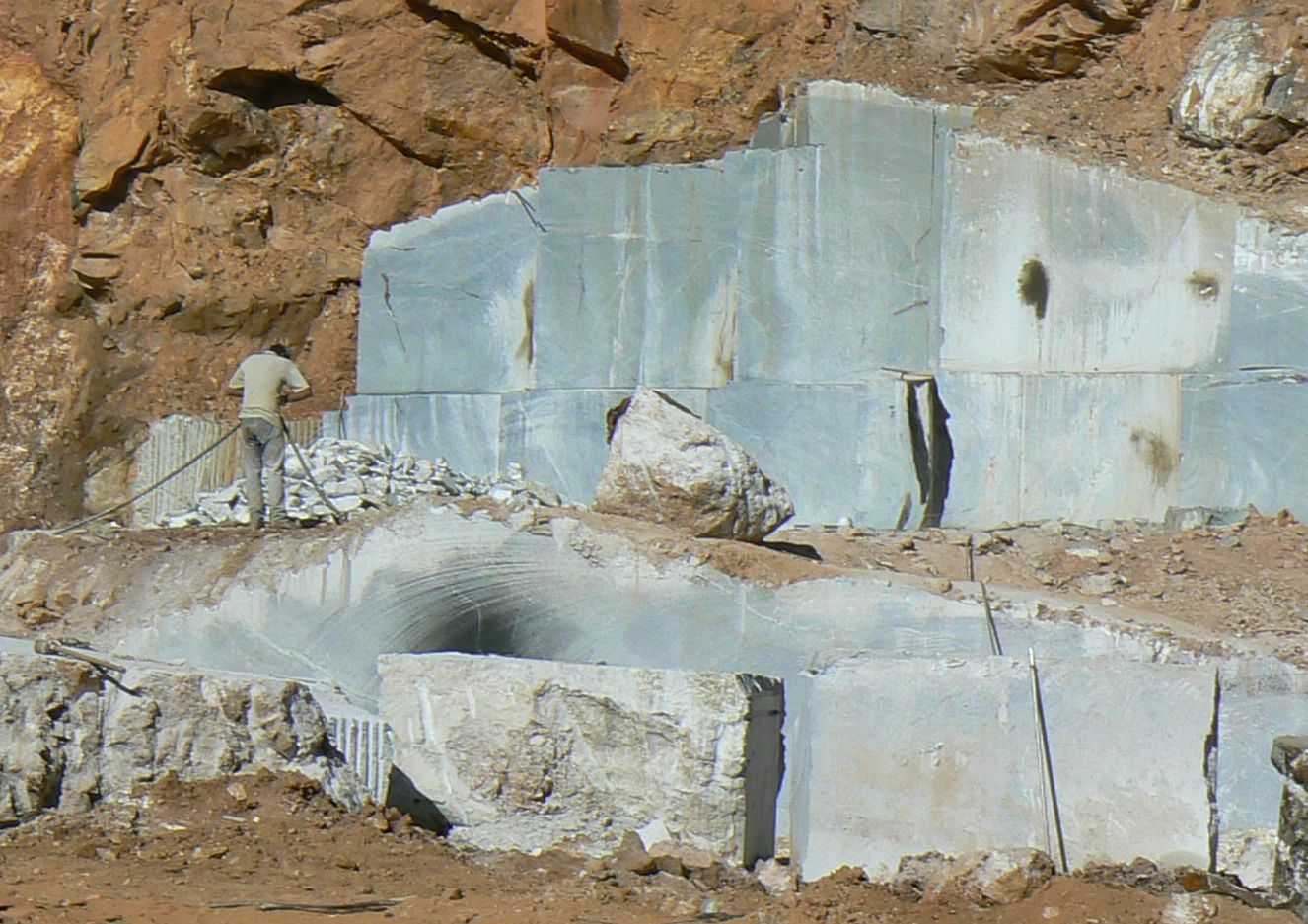 Soapstone is a renewable resource that can also be recycled as a building material
Disadvantages of Soapstone
Susceptible to Scratches
As we touched on briefly, the soft and pliable nature of soapstone is both an advantage and disadvantage. Although it provides some structural integrity, it also means that it scratches much easier than other natural stone options. And when I say it scratches easily, I mean you need to be careful when doing something as mundane as throwing your car keys onto a soapstone countertop. The good news is, scratches are very easy to remove using sandpaper but it is an extra layer of maintenance that some people aren't willing to take. Alternately, you can always develop a different mindset about your soapstone and appreciate all the imperfections that show up due to daily wear and tear.
Limited Color Options
Although soapstone has a beautiful and natural-looking appearance, it doesn't have a lot of options when it comes to different colors and patterns. Soapstone tends to come in various shades of black, grey and blue and not much outside of that. If you're looking for a stone that makes a bold statement and stands out in a crowd, you're better served going with quartzite or marble.
Oily Substances Will Leave Marks
I know this goes against the previous entry about soapstone being impervious to stains but oily substances, including the oil on the surface of your hands, can and will darken your soapstone. Typically, a mineral oil is spread on the surface to make the whole slab darken and this will prevent wayward fingerprints from ruining your enjoyment but it will need to be re-applied regularly until the oil fully seeps in and permanently darkens the stone.
Conclusion
Soapstone is a gorgeous and charming natural stone option for countertops and it operates best when complementing and blending with other design elements in the room. It isn't for everyone but those who love it become advocates for soapstone, singing its praises and admiring its qualities without reservation.
If you're looking for a countertop that looks like a slice of nature, brings warmth and charm into a room and will stand the test of time, soapstone can be a perfect option.
If you'd like more information on soapstone, feel free to contact us here at Hari Stones or better yet, visit one of our showrooms to see and feel our soapstone slabs for yourself.
Written by Jesse Day, Inside Sales @ Hari Stones