09 October, 2017
Where Semi Precious Countertops Are a Great Idea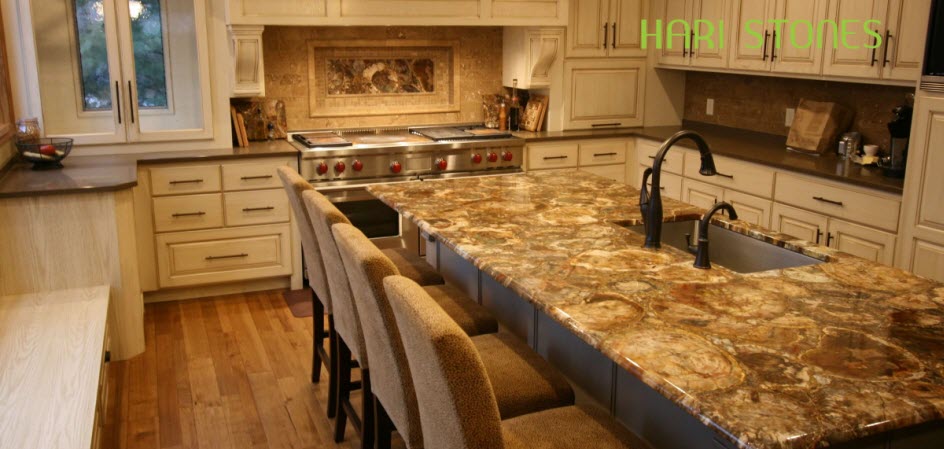 Are you considering using semi precious countertops in your home? Wanting to know the areas that work best for a semi precious material? If so read on, as we outline a number of ideas that work great.
Guest bathroom
While many people choose to use semi precious countertops in bathrooms all over their house, the guest bathroom is a particularly popular spot. Being an area that doesn't see as much use as a regular bathroom, along with providing a stylish and elegant first impression, a guest bathroom can be the perfect spot to use the material.
Feature table
If you have a feature table or bench in your kitchen, bathroom, or other room, this can be another area where a semi precious countertop can look fantastic. In being eye-catching in their design, most semi precious countertops can become the centrepiece of the room when designed in the right manner.
Bedroom
The bedroom is one area that is seeing an increasing use of semi precious countertops, in what can be an individual and unique way of creating an elegant, yet useful area. Semi precious countertops can help make a bedroom appear stylish and sophisticated, and their use in bedrooms is set to rise.
Within the kitchen
While there are many people who use semi precious countertops in their kitchen, one idea that can work well is to have them used in conjunction with other materials. Those who fall in love with the appearance of semi precious countertops may decide on making their entire kitchen a semi precious material, while a combination can also achieve a superb appearance.
At the end of the day, it all comes down to personal preference and the type of materials that the property or homeowner desires, though semi precious countertops are certainly worth a look.
A quick recap
Semi precious countertops can be found all over the home, from being used widely in kitchens through to bathroom areas, feature tables, and even used within the bedroom. There is no end to where you can use semi precious countertops, with some homeowners even using them as part of their garden area.
Get creative
Why not get creative with semi precious countertops and see how they can help make your home more stylish, elegant, and practical.