18 November, 2019
Natural Stone for Your Home – Marble, Granite or Quartzite?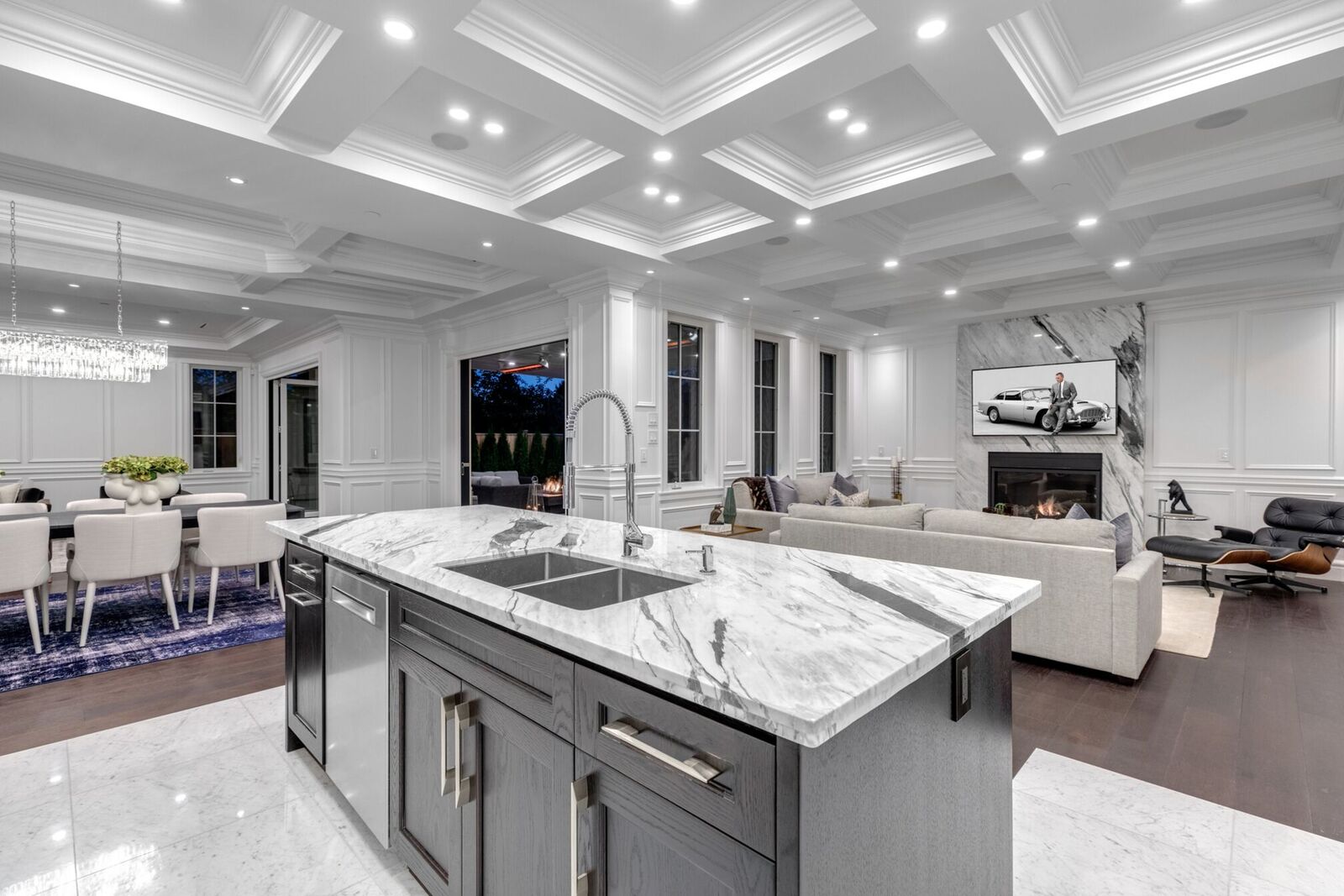 When it comes to taking that next step to upgrade the interior design of your home, natural stone can add a great deal of elegance and prestige while also being a practical choice that can raise the value of your home over the long run.
Besides aesthetics and financial value, the look and feel of beautiful natural stone can raise the spirits of your whole family. For those who have experienced it, there is nothing like being surrounded by natural marble, granite or quartzite with their array of patterns and colors formed by the earth itself and incorporated into the structure of your home.
Although there are a wide variety of options available in terms of material, we will focus on the three stones mentioned above and their unique properties. Everyone has different tastes and interior design requirements so after reading this article, you will have a good idea of which natural stone is ideal for your home. Let's dive in.
Marble – The Divine Diva

Marble brings to mind the splendor of ancient Rome, timeless architecture that inspires and uplifts all those who look upon it. Maybe I'm being a bit dramatic, but the fact remains that marble is certainly the most awe-inspiring of all the natural stones. Although marble will provide the maximum possible upgrade to your home's atmosphere, it does come with certain downsides. As with all three stones we will be examining in this article, let's establish a list of pros and cons that will inform your final decision on which stone to use for your project:
Pros
Heat-resistant. This allows hot pots and pans to be placed on its surface and makes marble suitable for fireplace construction.
Very few other stones can match marble's exquisite beauty.
If well-maintained, can increase the property value of your home.
Cons
Softer than other stone. This makes marble more likely to get scratched or chipped as a result of day-to-day use.
Porous surface can absorb wine, juice, oil and other liquids that will stain and be extremely difficult to remove.
Degrades over time so you need to be vigilant with upkeep and maintenance.
The cons of marble can be minimized or even eliminated if the proper care and attention is paid to this delicate yet spectacular natural stone. Think of marble as a diva that needs love and pampering but will deliver an experience beyond your expectations if you are willing to give it a little TLC.
Due to its somewhat delicate nature, marble should be sealed when it is installed. Once is not enough however, and you should re-visit the sealing process on a yearly or bi-yearly basis. Consult with your fabricator or supplier to learn the exact best-practices for maintaining the specific piece of marble you've chosen for your home.

Zebra Marble on a Kitchen Island

Granite – The Unshakable Guardian
Perhaps one of the requirements for your interior design project is bullet-proof countertops. Unlikely, but if so, granite has you covered. Granite is so durable in fact, that it will actually dull any knives used to cut on its surface. Despite its incredible resilience to wear and tear, granite is still a stone capable of incredible beauty and aesthetic appeal that will leave your guests with jaws on the floor and hearts full of envy. So, what are the downsides? Let's take a look at the positive and negative aspects of using granite as your stone of choice:
Pros
Incredible durability that will withstand the test of time. Granite is known to last for decades.
Low maintenance. You can have peace of mind knowing your granite countertops will remain in tip-top shape without the doting attention that some other stones require (we're looking at you, marble).
Scratch-resistant. The only material that can easily leave scratches is other granite or a diamond.
Cons
Cold temperature. Interestingly, this is caused by the mass of granite instantly pulling heat away from the skin. More of a slight annoyance at times than a real issue, in our opinion.
Less options when it comes to colors and patterns.
One of the more common natural stones. This is only an issue if you really want to make a unique statement with your interior design.
Although granite is a low maintenance option, it would still be wise to apply a sealant to the surface as granite is somewhat of a porous stone that can absorb unwanted liquids. Unlike marble, the sealant does not need to be applied as often and in some cases, can go a full decade in between applications.
In addition to being durable enough to stop a bullet (though we don't recommend testing this), granite also has a natural resistance to chemicals. Although repeated exposure to chemicals won't harm the granite itself, it can erode the sealant so be aware of this if you are using strong chemical cleaning agents.

   Kashmir Cream Granite on a Kitchen Island
Quartzite – The Reliable Companion
Perhaps you're looking for something with the elegance and beauty of marble and the rock-solid durability of granite. In the case of quartzite, you really can have your cake and eat it too as the best of both worlds are brought together: stunning aesthetic appeal and dogged resilience. In fact, although we made a big deal about granite's incredible durability, quartzite is often even stronger.
The crystalline sparkle of quartzite stone is unmistakably gorgeous, bringing a sort of shimmering majesty to your home's décor. Available in a wide range of colors and patterns that are unique to each slab, quartzite just might be the stone you're looking for.
Pros
Resistant to UV rays. This means quartzite is a great choice for outdoor applications.
Often stronger than granite, clocking in at a 7 on the Mohs Hardness Scale.
The beauty of marble combined with the durability of granite.
Cons
More difficult to properly cut than other stones, this will add to the overall cost and makes quartzite one of the more expensive options.
Cannot withstand prolonged heat, be sure to use coasters and pads when hot items are placed on its surface.
Susceptible to etching from chemicals and typical kitchen acids such as vinegar and orange juice.
There may be some confusion as to the difference between quartzite and quartz so allow us to explain. Quartz is an artificial version of quartzite, constructed from rock fragments along with synthetic materials such as resin and polymers. Due to quartz's man-made nature, it will often have a more consistent aesthetic in regards to color and pattern. Quartz is also less expensive to produce and not nearly as difficult to cut as quartzite and these savings get passed along to you, making quartz a good potential budget alternative to natural stone.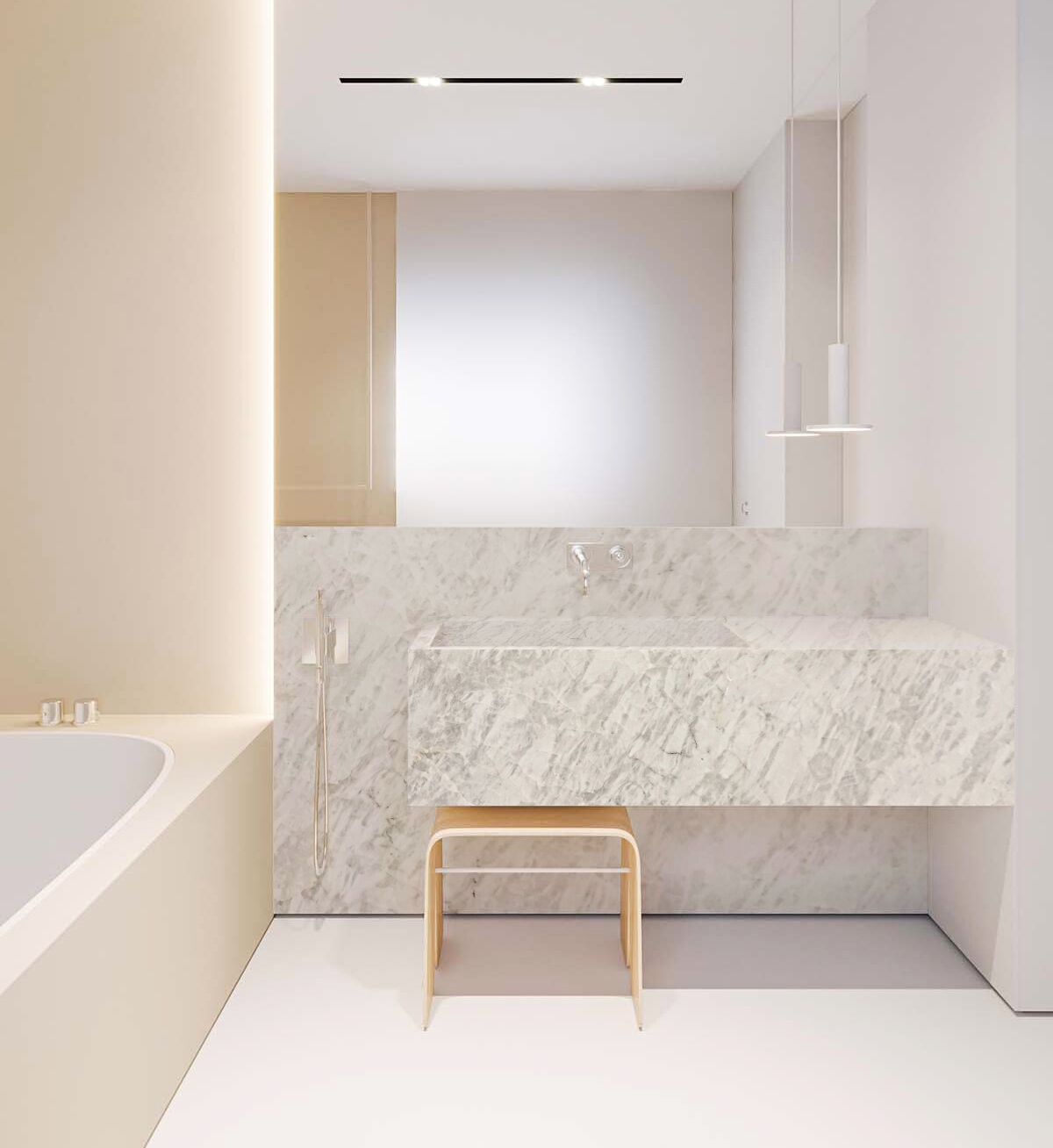 Cristallo Extra Quartzite bathroom application
The world of natural stones is as diverse as mother nature herself, with a variety of colors, patterns, textures and veining. Incredible canvases that end up as artistic masterpieces painted by the earth, with no two slabs being alike.
Take a look at our selection of Marble, Granite and Quartzite stones here at Hari Stones or better yet, come visit our showroom to see and feel the beauty of natural stones for yourself.
Written by Jesse Day, Inside Sales @ Hari Stones Limited