26 September, 2020
Limestone for Your Home: Countertops, Tiles, Fireplace and Exterior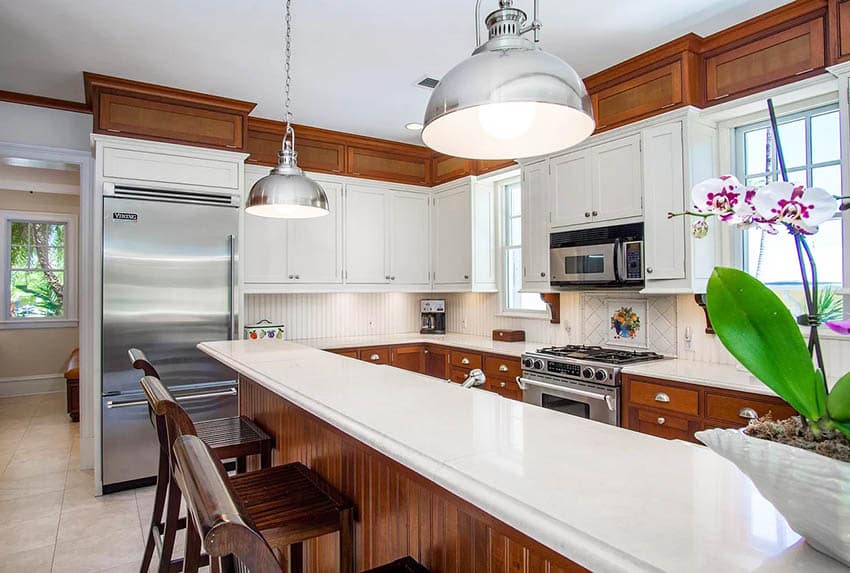 Limestone is a diverse and beautiful natural stone that we feel doesn't always get the love and attention it deserves so it's time to change that. Let's dive into all the possible home applications for limestone and learn why it can be an effective, aesthetically appealing and affordable choice for your home build or renovation project.
What is Limestone?
The origins of limestone are both unique and fascinating. It is a sedimentary rock, which means that it forms on the bottom of rivers or oceans due to the accumulation of small particles from organic sources. In the case of limestone, the shells and skeletal debris of various forms of marine life form the basis from which limestone develops over the course of time. 
You've probably heard a lot about marble online but did you know that marble actually began its life as limestone? Marble gets formed when limestone is exposed to high temperatures and pressure resulting from shifts in the earth's surface. Both materials have their own characteristics and so one is not better than the other, it all depends on your personal taste and what you want to use it for.
Now that the brief history lesson is complete, let's get into the nitty gritty details on practical usage.
Home Applications for Limestone
Countertops

Limestone makes for an absolutely beautiful and natural looking countertop that can complement a wide range of other design elements in your kitchen.
A lighter-colored beige limestone such as Jerusalem Gold or Gascogne Beige is perfect to impart rustic charm and create an inviting and warm atmosphere in your home. Beige-colored limestone slabs also contrast wonderfully with darker-colored cabinetry and provide an immediate show-stopping effect when people walk into your kitchen.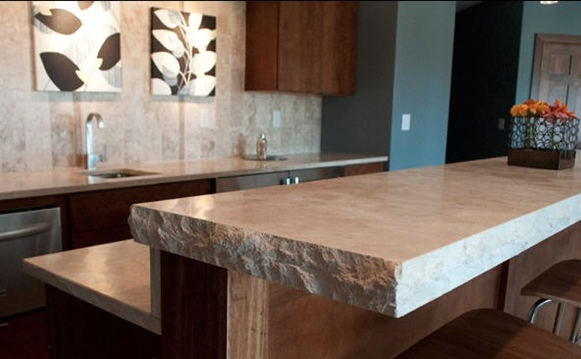 Beige Limestone provides a feeling of rustic charm 
Grey limestone, such as New Smoke or Khaki Fog, creates more of a modern and elegant effect on the surrounding area. White cabinetry is the perfect complement to a grey limestone and the synergy between the colors makes for a minimalistic design that feels chic and slightly industrial.  
The combinations of colors are more limited with Limestone than with many other natural stone materials, with greys and beiges being prevalent. However, limestone certainly has its own unique charm that will light up a room and bring the natural world into your home.    
Now for all the joy that limestone can bring, there are definitely some downsides to using it as a countertop material that you should be aware of. Firstly, it is a very porous material that can be easily stained. Much like its sibling marble, limestone is particularly susceptible to stains from acidic substances, such as lemon juice and red wine. Add to this the fact that it tends to be lighter in color and the result is that stains can show up more prominently than with darker varieties of natural stone.
The remedy to the staining issue is to ensure that your limestone is sealed with a high-quality impregnator sealer. This is standard practice with all natural stone but is particularly important in regards to limestone. Sealer should be re-applied every year to ensure your limestone remains resilient to stains over the long run. In addition, we recommend you be vigilant when it comes to stains and clean them as soon as they occur. Never use traditional kitchen cleaning solutions on your limestone, the chemicals they contain can cause their own form of staining and etching. Instead, use warm water and mild detergent and whenever possible, dab at stains until they are eliminated instead of wiping them. You should also avoid abrasive sponges and cloths, which can scratch the surface of your countertops.
All-in-all, limestone makes for a beautiful countertop but definitely comes with some extra maintenance requirements. Whether you're willing to make the extra effort is up to you but limestone has several other uses to consider as well.
Tiles
Natural stone tiles add charm to any area in which they are placed. Limestone tiles are no exception and in fact, are more natural-looking than most other tile options available. The same color palette of beiges and greys prevails once again but the sheer variety of patterns and shades within these colors make limestone tiles very appealing. Both polished and honed options are available and limestone is one of the few materials that will contain actual fossils clearly visible within the stone.
As with countertops, limestone tiles do have some extra maintenance associated with them. You want to make sure to seal your tiles and be mindful to not drop heavy objects on them, as this could cause them to chip or crack. On the brighter side, the tiles are easy to replace as they are rather inexpensive compared to other varieties of stone tile, such as marble or granite.
Limestone tiles can also be placed outdoors to form a path in your garden or to lead visitors to your front door from your driveway. This can be ideal, as the rustic appearance of the tiles lends itself well to the natural elements of the outdoors, such as grass, trees and other plants or shrubs which surround your home. With that being said, weather will definitely alter the appearance of limestone over time but this doesn't need to be viewed as a disadvantage. The natural transformation of limestone tiles in the outdoors can be a delight and make them even more charming than when they were in pristine condition.
There are a lot of tile options out there so before you decide, think about the most important traits you are looking for in a tile. If durability and ease of maintenance are important factors, it might be best to skip limestone and consider other options. However, if natural beauty is a priority and an inexpensive price tag sounds appealing, limestone tiles may be the perfect choice.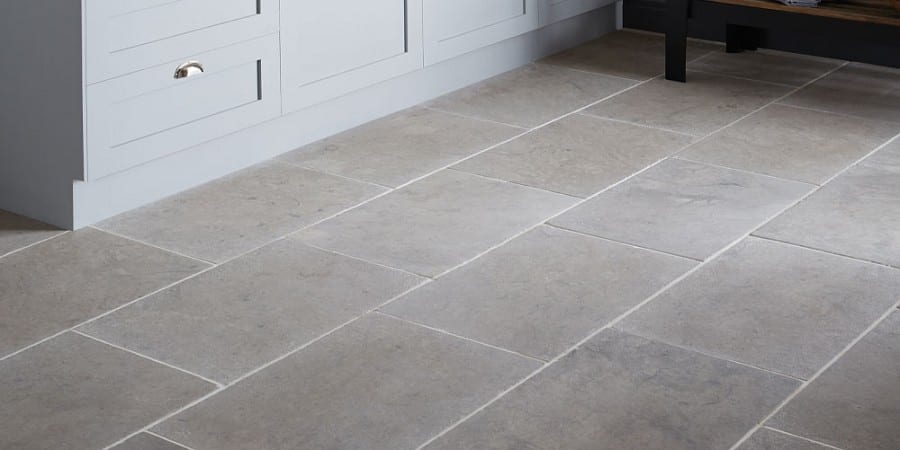 Limestone tiles transform your living space by adding a touch of natural beauty
Fireplace Surround
There's nothing quite like a gorgeous fireplace, surrounded by natural stone, to create a cozy environment that provides comfort and warmth. There are many options when it comes to the type of stone you could use but limestone is an ideal option. Limestone withstands heat very well and as a fireplace surround, it avoids all of the issues that could potentially hold it back as a countertop or floor tile due to the fact that its surface is not being actively being used or walked on.
Here is where I will reveal a third shade of color inherent in limestone and that is blue. The reason I am touching on this here is that a blue limestone, such as Gascogne Blue, really makes a great statement as a fireplace surround. Psychologically, blue triggers calmness, serenity and feelings of tranquility and so makes an ideal fit for warming yourself by a roaring hearth on a cold winter's day.
A fireplace surround is an ideal use for limestone but before we close out this article and come to a conclusion, there is one more very important use for limestone that can make a real impact on your home.
Exterior Use
If I were to choose the very best use for limestone, it would be for the exterior of your home. Limestone is meant to be exposed to the elements, where it weathers beautifully and maintains its structural integrity come rain or shine. In fact, limestone was one of the first stones ever brought into popular use as exterior cladding (the Pyramids in Egypt were made with limestone) and there's a reason for this.
We touched on using limestone tiles for the exterior of your home and how they actually gain character as they age and this is also true for the exterior of your home. Don't worry, they won't chip or fall off your home but rather will develop a well-worn look that will increase the stature of your entire home and give it a unique charisma.
Limestone is also easier to work with for builders, who have relied upon it for centuries due to its even texture and versatility. It can easily be tailored and sculpted to match the look of any home and this makes limestone highly prized as exterior cladding and veneer.
When it comes to durability, exterior limestone is a real winner. Whereas it can be scratched or cracked as a floor tile or countertop, limestone applied to the outside of your home has no such issues. You will also not need to worry about sealing it and maintenance and upkeep is virtually non-existent, aside from power washing it when it accumulates too much dirt and dust, like with any other exterior stone.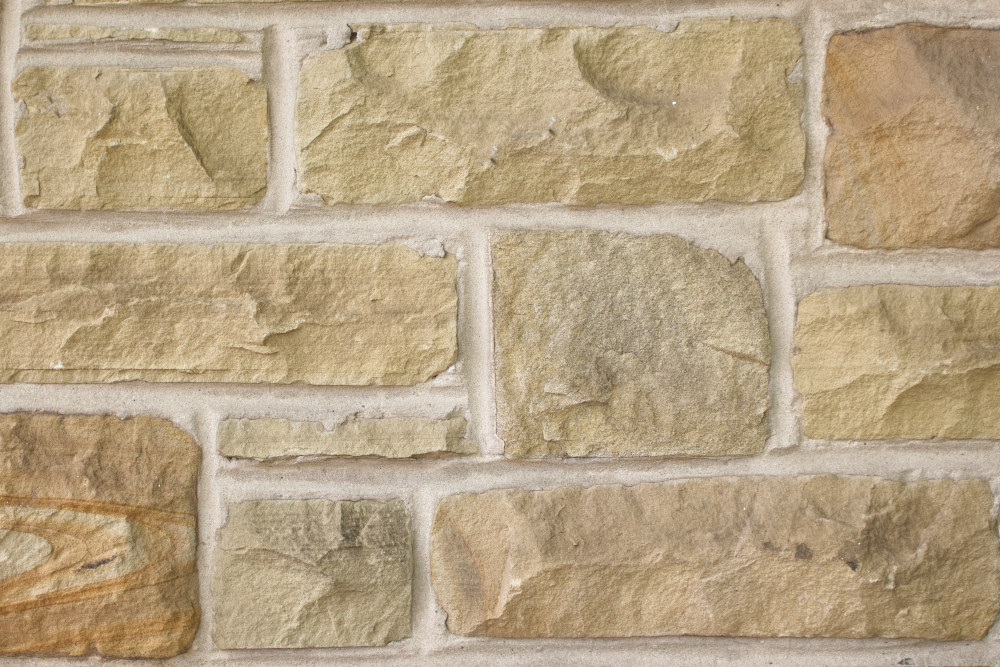 Limestone makes for a reliable and attractive home exterior
Conclusion
Hopefully reading this article has convinced you that limestone is a wonderful option for a variety of home applications. What it lacks in color variety, it makes up for in natural beauty and overall versatility.
If you have any questions about using limestone in your home, get in touch with us and ask away. At Hari Stones, we pride ourselves on being experts when it comes to natural stone and so can provide the right information to help you come to an informed decision.
If you'd like to take a look at limestone slabs, tiles and exterior stone yourself, visit one of our showrooms in Edmonton, Calgary or Vancouver. Our knowledgeable sales staff will be able to guide you in the right direction and ensure that you choose the right stone for your home build or renovation.
Written by Jesse Day, Inside Sales @ Hari Stones