13 July, 2019
Which Kitchen Countertops Suit Your Style Best?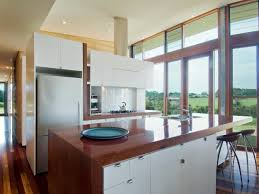 There are so many desirable options to choose for your kitchen countertops, the dilemma is in choosing the right one to suit your style. Between granite, marble, quartz, and other semi precious stones, it can be confusing to tell which rocks are the most durable, cost-effective, and the best suited to your aesthetic. The trick is to first eliminate the kitchen countertops you don't want, then narrow down your choices to the ones that will work best for you. Here are some questions to ask yourself that will help make the final decision.
What kind of look do I have in mind?
Some people start out with a vision of how they want their kitchen designed, and that will guide their choice of décor. If you have a particular inspiration, such as a rustic feel,or an industrial effect, then research the complementary kitchen countertops to help steer you in the right direction.
For example, marble is very versatile.Though it does sometimes add a classic feel, it also looks great in a clean, modern kitchen. Dark granite can give an industrial or sophisticated edge to a kitchen's atmosphere. Quartz seems unassuming, but can also be made to pop, depending on what colour you choose. Finally, using semi precious stone slabs is a bold move, as they stand out impressively when used for kitchen countertops.
Would maintenance bother me?
If regular maintenance is an issue for you, then narrowing down your ideal options will make your decision a little bit easier.Semiprecious stone countertops need the most care to keep them in good shape, as does marble. As these rocks can be quite porous, their resistance to stains and chips isn't as good as denser stones, so they usually need to be sealed and cared for at least once every 6 months. If you tend to do a lot of cooking, but don't mind regular resealing in order to have the beauty of these stones in your kitchen, then either of these could be your best choice.
Granite is a much hardier rock than the above mentioned two, so resealing for this is only necessary once every year. A very popular option for kitchen countertops, thanks to its sleek look, high tolerance to heat, and resistance to scratches, it's no wonder that this rock is attractive for those seeking a balance between aesthetics and practicality. Finally, quartz is also a great choice for those seeking low-maintenance kitchen countertops. With many different colour options and excellent resistance to wear and tear, it is quickly gaining in popularity.
What can my budget afford?
Certain kitchen countertops, like semi precious stones and marble, for example, can register a little bit higher on the cost scale, while quartz is generally less expensive.Doing some research on price in advance is a good idea. If you do have your heart set on a certain style, but it is looking a little out of your price range, then discuss this with your supplier, as they may have workaround ideas like using tiles instead of a full slab, which will save you money, with very similar results.