23 October, 2020
Is Onyx the Right Choice for Your Home?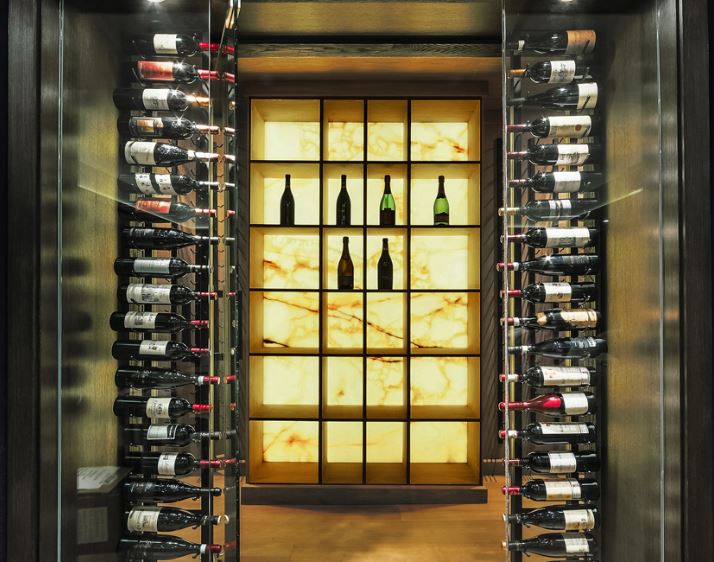 Onyx is a truly enchanting natural stone with a long and fascinating history. Used throughout the ages for jewelry due to its exceptional properties when carved, this luxury stone is also quarried and sold as slabs for use as countertops, fireplace surrounds, vanities and as a decorative showpiece that makes an impressive design statement.
Once one of the most prized stones in a variety of ancient civilizations, onyx is now highly sought after for its unique appearance and for the fact that it is one of the few stones that can be backlit due to its translucency. Let's explore the variety of applications that onyx can be used for in your home to determine if it might be the right stone for you.
Onyx Countertops
As a rule, onyx is one of the most brittle and delicate natural stones you can install as a countertop. For this reason, it is recommended that you only use it as a countertop in an area of your home that does not see heavy use. Instead, onyx can shine as a custom bar countertop and is used by a lot of commercial bars as a wow factor to dazzle their patrons.
If you are building or renovating a bar in your home, then onyx can be a great choice and creates a fantastic atmosphere that is sure to have your guests singing its praises. Just be mindful of its delicate nature and be sure to use coasters for all the drinks you serve or you may find yourself with unwanted scratches and stains. Its also worth informing guests, or anyone who will be using the bar, to be cautious with their glasses so as to avoid unwanted accidents.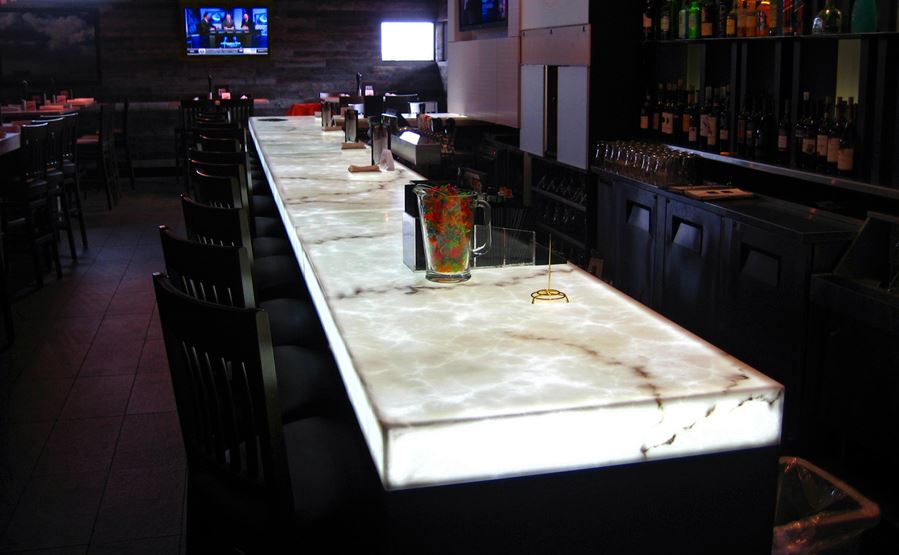 Onyx is perfect as a bar countertop
Overall, it is not recommended that you install onyx as a countertop in a kitchen but that doesn't mean it's impossible. Just understand what you're getting into, if you have a family and your kitchen sees a lot of use then your onyx will inevitably get stained, scratched and etched over time and that might be okay with you. If you live alone or with a partner, your kitchen doesn't see a ton of use and you're aware of the caution that needs to be exercised, there's a good chance you can keep your onyx countertops in fine shape over the long run.
As with all natural stone, you will want to seal your onyx countertops with a high-quality sealer to help mitigate damage. Speak to your installer about finding the best sealer for onyx to ensure you're sparing no expense. Onyx is one of the higher-priced stones on the market so it makes sense to splurge on the best quality sealer possible to ensure it is protected from everyday wear and tear.
Fireplace Surround
A fireplace application is the exact type of scenario where onyx can truly flex its muscles as both a decorative and practical stone. Horizontal applications such as countertops are generally best avoided but when placed vertically, practically all of its downsides are eliminated. Not only that, but onyx looks absolutely awe-inspiring around a roaring fire.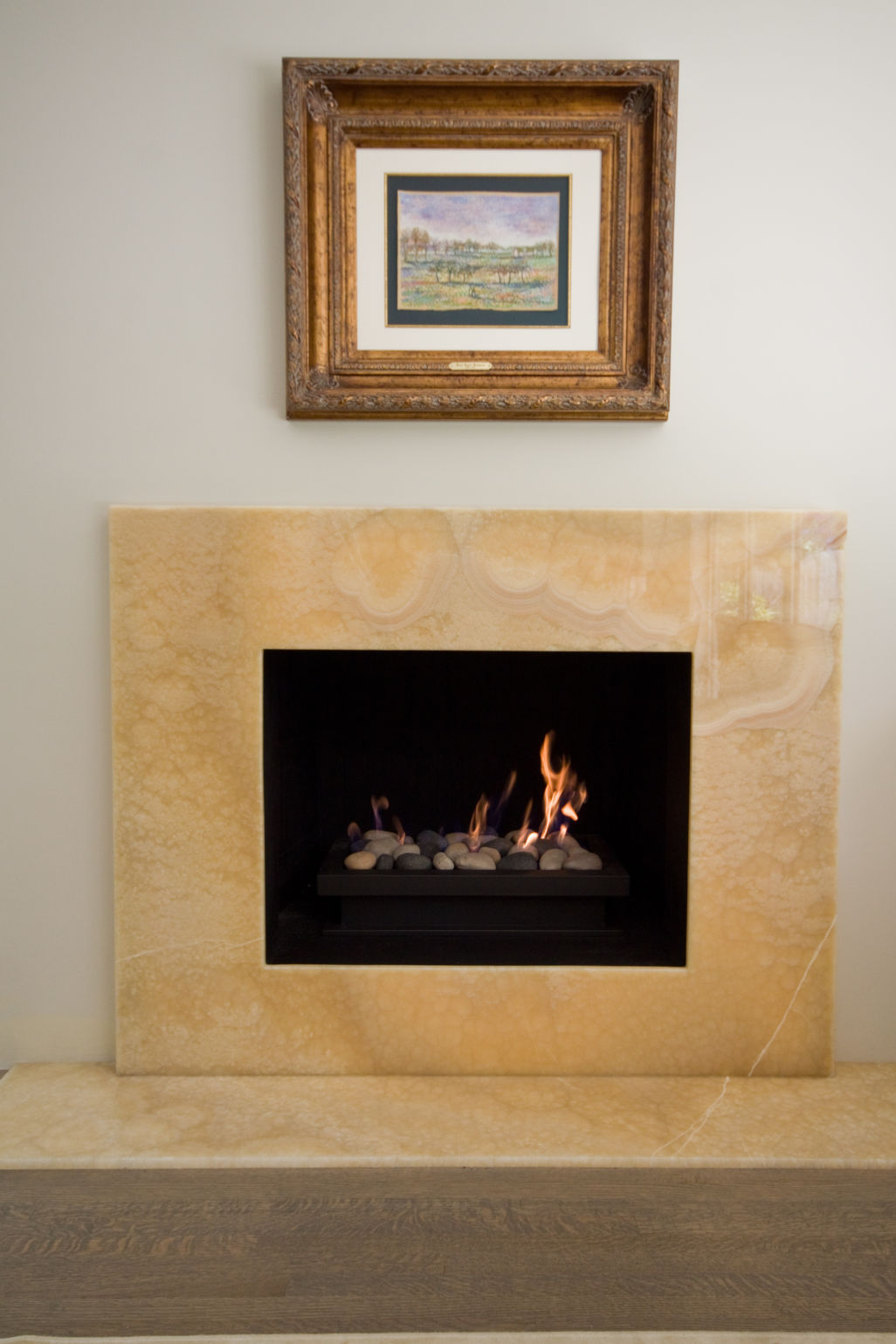 Honey onyx makes for a stunning fireplace surround
Depending on the size of your fireplace surround, you can also opt to bookmatch slabs of onyx for an extra dramatic effect. Bookmatching is when a block of stone is cut on two different sides, producing slabs that are a mirror image of each other. When placed together, the veining and pattern connects together and flows seamlessly across the slabs, making a very striking impression. 
Vanity
Bathrooms or powder rooms are the ideal place for onyx if you do want to use it in a horizontal application. This is because its surface won't see heavy use and will generally be free of acidic substances and other liquids that could permanently stain the surface. With that being said, it is still always best to err on the side of caution and be mindful of cleaning up any spills from toothpaste, mouthwash and cosmetics as soon as they occur.
The same rules that apply to a bar countertop also apply here, don't place drinking glasses or any other hard objects on the surface without a coaster or cloth placed in between to protect the onyx. You will also need to seal your onyx vanity to help prevent etching, scratching and staining as much as possible and overall, maintenance and upkeep will be more arduous than with another natural stone such as granite or quartzite.
Onyx is downright gorgeous as a vanity but you do have to walk a fine line between beauty and the work it takes to keep that beauty in pristine condition. If you are willing to adopt a mindset of not being overly concerned when the occasional scratch, dent or ding does occur, it will also go a long way towards allowing you to enjoy your onyx vanity over the long run. 
Decorative Showpiece
If I were to recommend one use for onyx above all, it would be as a decorative showpiece on a wall in your home. This kind of application is where onyx can really flex its muscles as the dominant centerpiece in a room. Whether its in your living room, kitchen or bathroom, one or more large onyx slabs along a wall make for an otherworldly experience, particularly if backlit.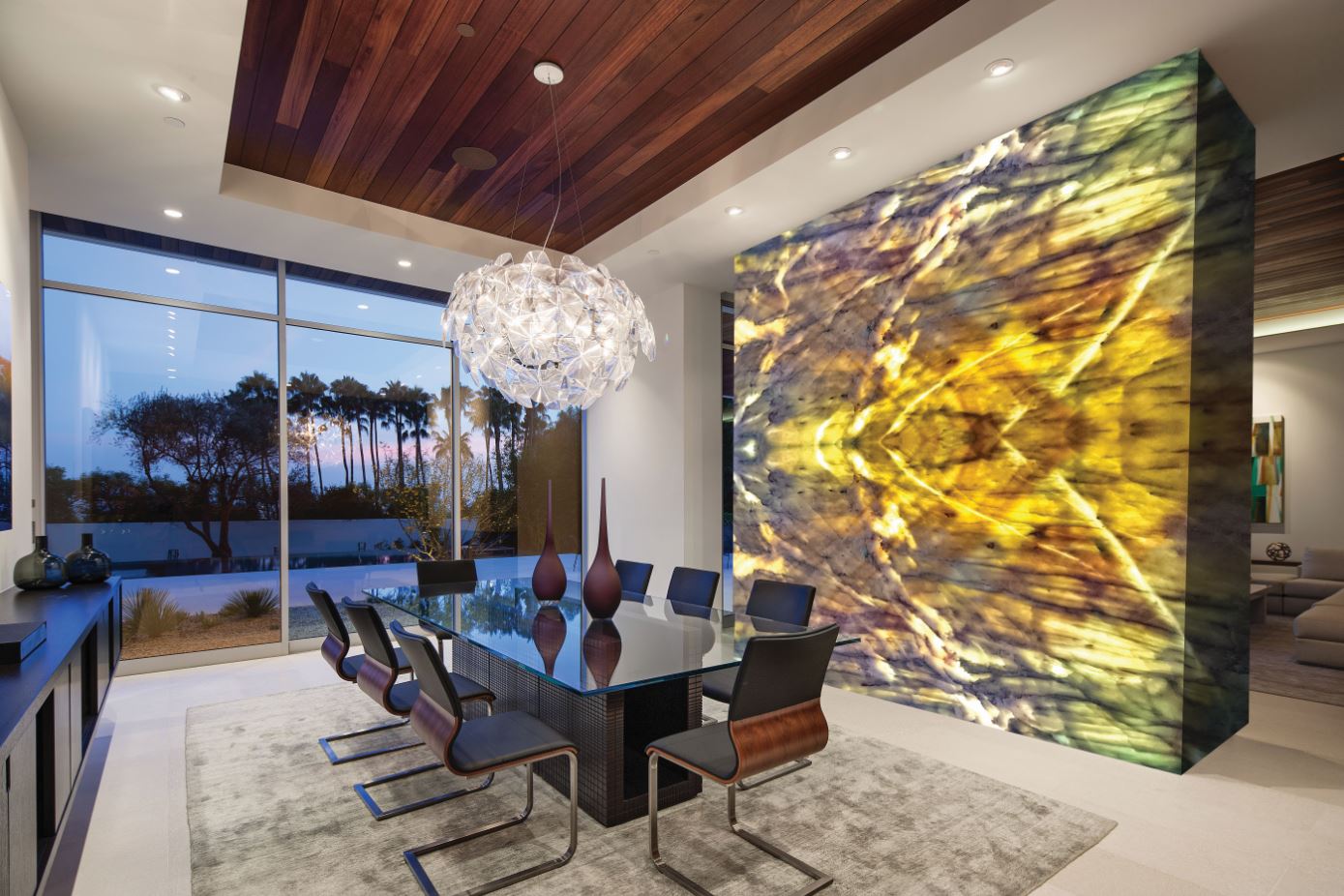 A stunning backlit onyx wall
Backlighting Onyx
One of the main reasons that onyx is highly sought after is that it is one of the few natural stones that can be lit from behind or underneath. This not only livens up the space it is in but also brings out and accentuates fine details in the stone.
The most effective way to backlight your onyx is with LED strips installed on the back of each slab. This creates a bright enough light to fully penetrate the surface and highlight all the beautiful characteristics of onyx. 
Conclusion
Onyx is one of the more exotic and luxurious natural stone options on the market and although it certainly isn't a good fit for every project, it can breathe new life into any room if you're looking for something unique.
When it comes to cleaning, a lot of the guidelines we covered in our article on caring for marble also apply here: don't use any chemical-based cleaning solutions, clean up spills as soon as they occur and above all, be gentle with your onyx and treat it like a member of your household to ensure it will provide you with enjoyment for years to come.
At Hari Stones, we carry a wide variety of onyx in all the colors of the rainbow so if this is a stone that interests you, why not stop by one of our showrooms and have a look for yourself? One of our experienced sales staff will be able to guide you on a rare journey with one of the most prized natural stones in history.
Written by Jesse Day, Inside Sales @ Hari Stones Limited