16 October, 2020
Choosing the Right Natural Stone Tiles for Your Home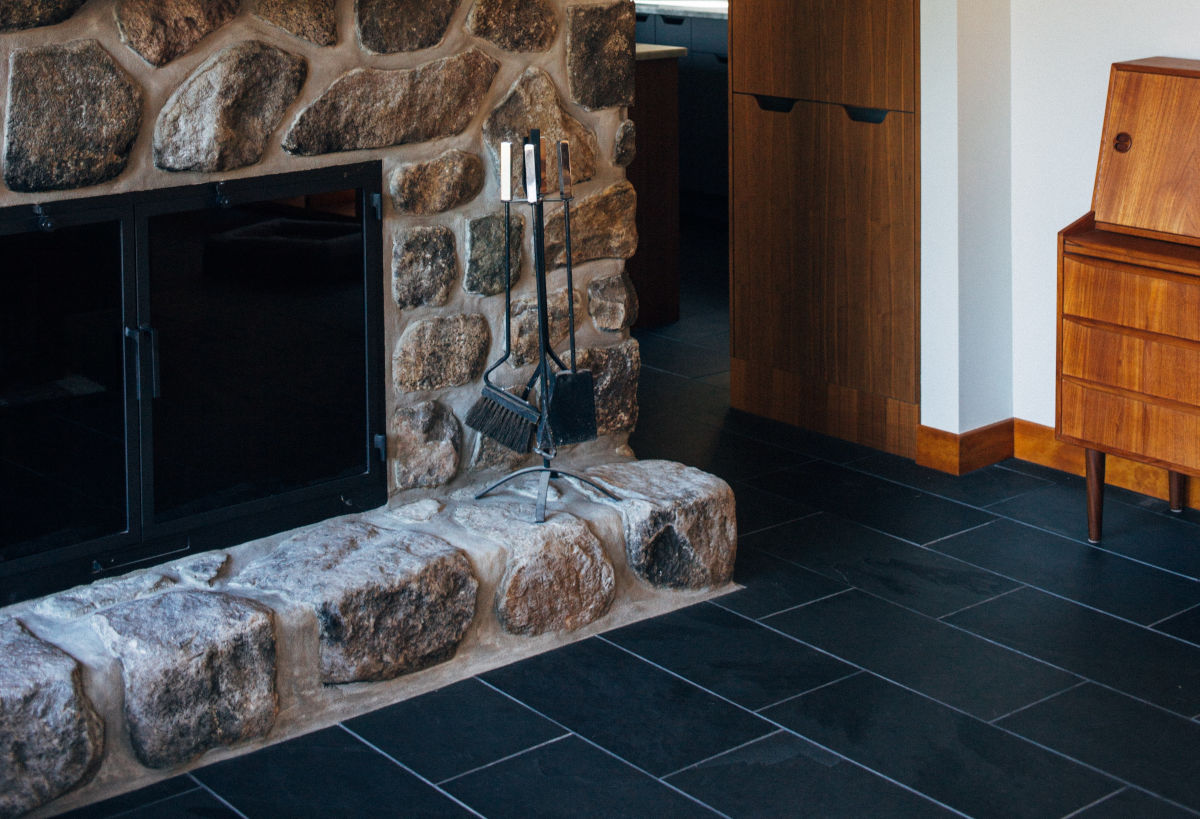 Natural stone tiles are one of the most durable and aesthetically appealing flooring choices. Whether you are thinking of installing them in your bathroom, kitchen, living room or outdoors, stone tiles can provide you with years of enjoyment if you know how to select the right materials.
Everyone has different tastes which need to be taken into account and combined with the more practical requirements when making an informed purchase. This article seeks to provide you with the necessary information to choose tiling for your home with confidence.
The floor tile materials we'll be covering today are Granite, Marble, Limestone, Slate and Travertine. Let's take a look at the characteristics of each to determine the best fit for your flooring needs.
Marble Tiles
Marble always brings to mind luxury and prestige and if those are elements you wish to invoke in your interior design goals then it may be the stone for you. As a tile option, marble can really tie a room's design together and is the perfect choice if you want to make your floor one of main attractions in your home.
Marble comes in a wide variety of colors and patterns and is incomparable when it comes to sheer aesthetic appeal and overall value. Although certainly one of the more expensive options, if properly maintained marble will most certainly raise the property value of your home over the long run.
The unique look of marble cannot be replicated by any other stone. Although manufactured imitations exist, most experts would agree they are a far cry from the real thing. However, authentic marble does come with certain downsides that its man-made counterparts steer away from.
Firstly, marble can be a fairly delicate material and so is not ideal for high-traffic areas. When it comes to wear and tear, the decades-long durability of granite is leagues ahead and if this is a major factor in your choice, it might be better to leave marble behind. Keep in mind that marble tiles can also be used for wall applications, such as in bathrooms, which helps to mitigate any wear and tear and ensure they stay in good shape.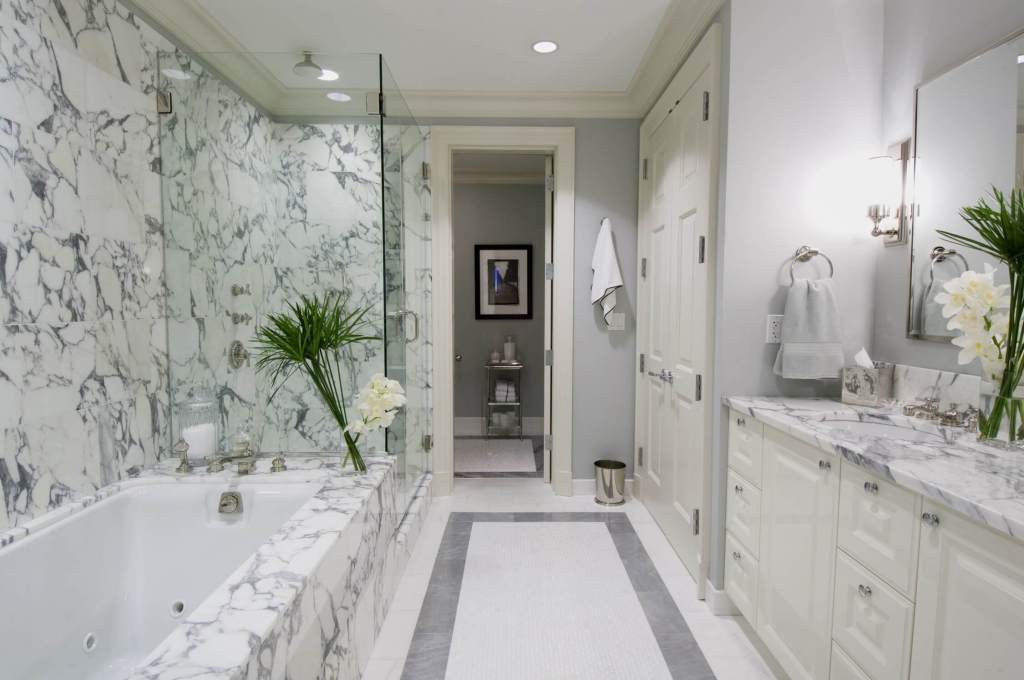 Calacatta marble tiles look great as a wall application in a bathroom
Marble is also susceptible to staining from acidic compounds such as juice and wine so you need to be mindful to clean up any spills right after they occur. If your home sees a lot of activity from family and guests, the chances of accidents occurring with liquids increases so be mindful of this before deciding to adorn your floors with marble. Keep in mind that the busier the pattern, the less stains will show so you might want to consider this when choosing which type of marble to use.
Because of the unique veining and patterns present in marble, replacing damaged tiles can be difficult due to the high variation that occurs between different batches. For this reason, it is recommended to purchase some extra tiles beyond what you need and keep them handy in case you have to replace one or more of them. Also, sealing is essential for marble to minimize the effects of wear and tear.
Beauty comes at a price but if it's one you're willing to pay, marble can bring a special atmosphere into your home not available from any other stone. As long as you pay special attention to sealing and maintaining your marble tiles, the downsides can be minimized.
Limestone Tiles

Limestone tiles are a great choice if you're looking for something with an understated and natural look that can be installed in or outdoors. The subtle light tones of limestone make it ideal when you don't want to draw too much attention to your floor and it allows other design elements to shine.
Generally speaking, limestone comes in shades of beige and ivory and comes in both honed and polished finish. There are always exceptions to this rule but for the most part, you should be considering the lighter tonalities in your design process if you are using limestone.
Not many materials can give you a better bang for your buck, limestone is one of the cheaper options available for tiles while still being highly functional. If keeping a tight budget for your project is one of the main goals then you can't go wrong with limestone.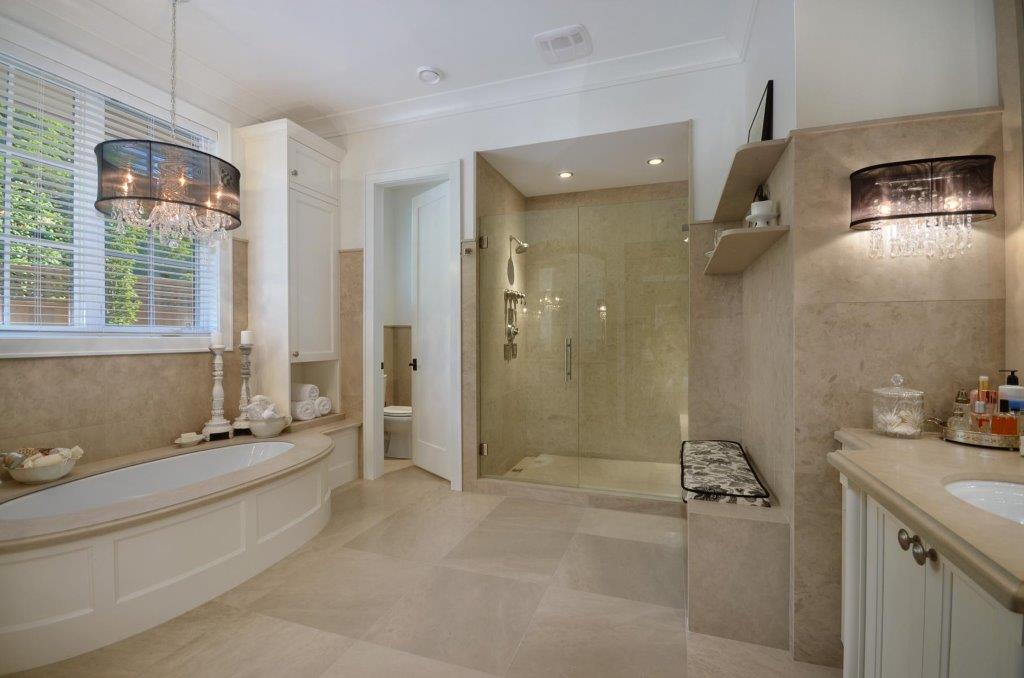 Persiano limestone tiles create a warm and inviting atmosphere
As with nearly every material, there are some downsides to using limestone. For one, it's a fragile material and can crack and chip over time. This means you need to be fairly vigilant when it comes to maintenance and sealing. Fortunately, limestone tiles have very similar colors and patterns so they are easy to replace if need be.
Limestone is also a very porous material so water and other liquids can pass into the stone fairly easily. As long as you properly seal the tiles before installation, this should be a non-issue for the most part but something to be aware of.
If you want to experience the beauty of natural stone without a big price tag attached, limestone just may be the material you're looking for. Its limited design options are offset but its affordability and its rustic, no-nonsense aesthetic.
Slate Tiles
Slate is an exceptional stone for floor tiles, having a great deal of slip-resistance and it is considered one of the safest floor tiles and has the resilience to last for decades. Furthermore, it's unique and varied appearance give it a quaint sort of charm that makes it feel like you've placed a piece of nature inside your home.
Slate tiles are also extremely reliable as an outdoor option and can provide a perfect complement to your lawn or garden from a design perspective. Be aware however that slate is a clay composition so it can chip and flake over time. This is not always a downside as the remaining slate revealed after the top layer comes off is almost like another new piece of stone and will continue to perform without necessarily having to be replaced.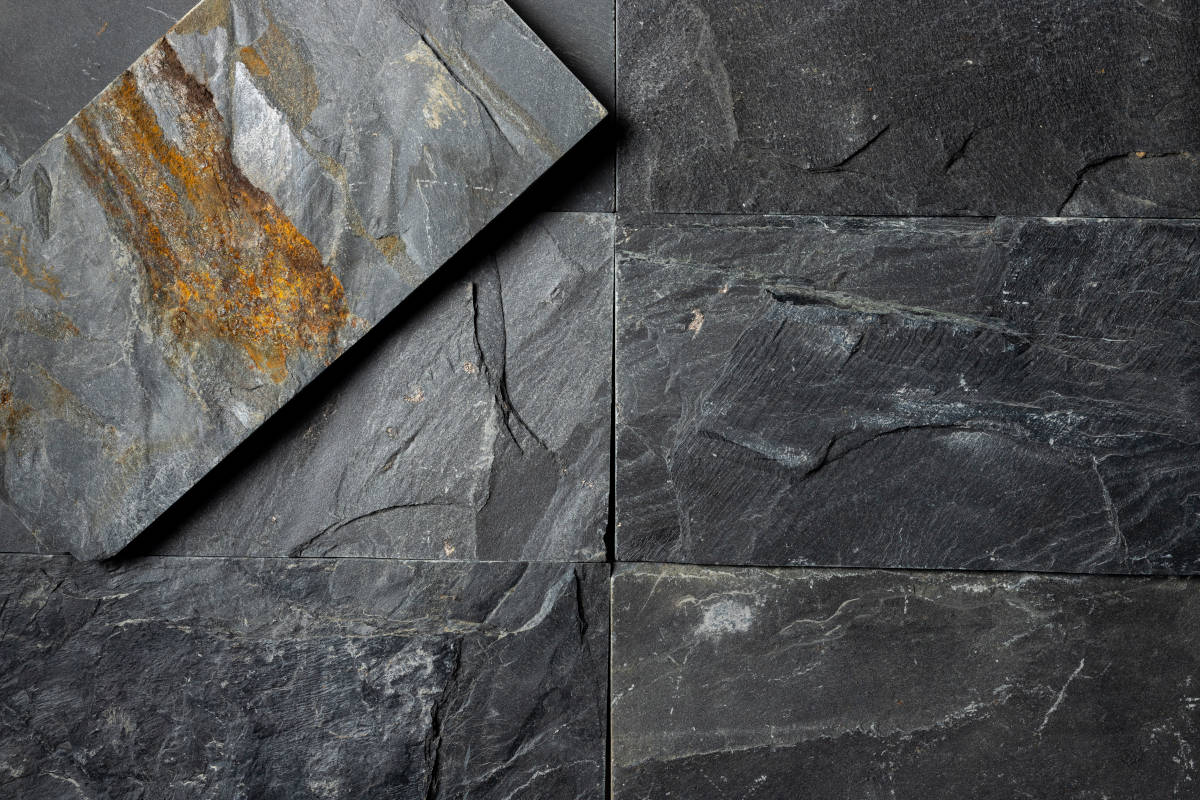 Slate tiles give an authentic natural stone feel
The appearance of slate can be a positive or negative, depending on how you look at it. On the bright side, slate embodies the look of natural stone to a tee, with a variety of rustic color shades that can be combined in interesting ways to create a one-of-a-kind design. On the other hand, there is a huge amount of variety tile-to-tile compared to other natural stone options. This is great if that's what you're going for but it also means it's hard to make a cohesive design and broken tiles can be difficult to replace due to the variance in different batches.
Slate is also fire and water-resistance and is generally a non-porous stone meaning it effectively resists staining as well. There are different qualities of slate so be sure to confirm before you make a purchase. As a general rule, the higher the price tag, the more likely it is to be top-level slate. Once again, a good quality sealant is recommended after installation to protect slate tiles for the long run.
Durable, beautiful and practical, slate has all the characteristics to make it an all-star tile for a variety of applications.
Travertine Tiles
Travertine is a form of Limestone that is created near mineral spring deposits and comes in a variety of earth tone hues. Its name is derived from the Italian word 'travertino' and in fact, Italy is renowned for its travertine production with some of the best quality slabs and tiles coming from that region of the world.
Although travertine's color options are somewhat limited, the shades that are available really do represent some of the best of a natural stone look and feel. Rustic while still being elegant, you can see the history of how the stone was formed through the various lines and mineral deposits on a travertine tile. If you want to be surrounded by an atmosphere of tranquility that comes from having a piece of mother nature in your home, travertine tiles may be the best choice for you.
Another advantage of travertine tiles is their ability to withstand dramatic changes in temperature without warping or otherwise becoming compromised. This makes travertine ideal for outdoor applications as well as inside the house. Travertine is also very environmentally friendly. It is deposited naturally around geothermally heated hot springs and does not take much of a toll on the earth to be extracted.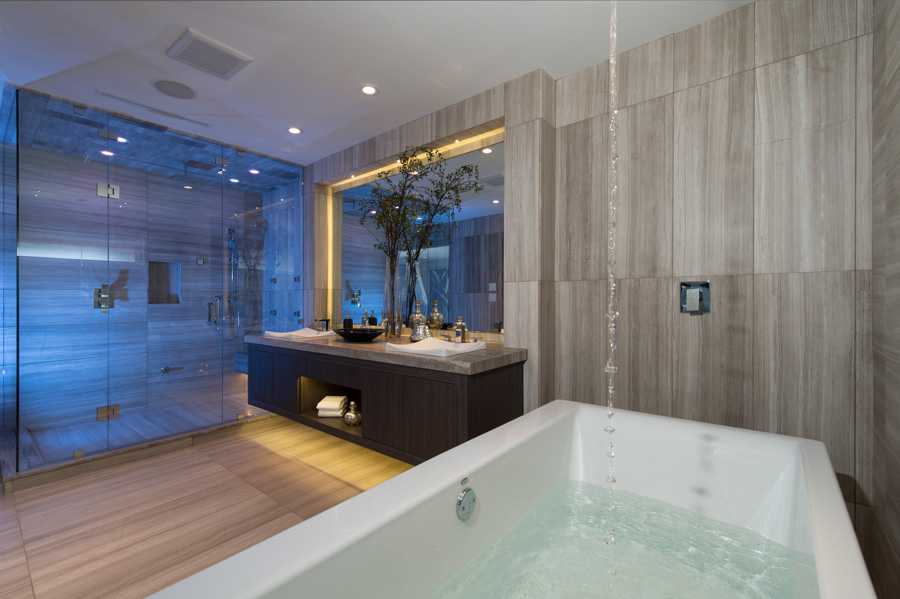 Antique honed travertine tiles on both floor and walls
There are some downsides to choosing travertine tiles but these can be mitigated or eliminated altogether with the proper care and maintenance. Travertine is a very porous stone to the point where it is often filled with holes that are visible to the eye. For some people, this is an undesirable aesthetic but for others, its part of the stone's charm. Aside from the way it affects appearance, the porosity of travertine makes it quickly absorb liquids that spill onto it. Water won't cause any issues but acidic substances such a coffee or wine can stain or etch it permanently.
As with all the other tiles in this article, proper sealing can go a long way to ensuring it won't stain and can protect the travertine from wear and tear as well. You should also be mindful to clean up any spills as soon as they occur so they don't absorb into the stone. Travertine may need to be sealed and maintained a little more than other options so it's something to keep in mind when making your tile selection.
Granite Tiles

Granite makes for the most durable tiles of the bunch so if you are going to be installing tiles in an area of your home that sees heavy use, granite can get the job done. In addition to rock-solid durability, granite tiles are available in a variety of colors and patterns that can complement the other design elements in the room.
Granite tiles are perfect for high-traffic areas in your home such as a foyer, kitchen or living room. Because of granite's inherent durability and resistance to wear and tear, your tiles can last for decades with a minimal amount of maintenance.
When it comes to the design of granite, a lot of people picture drab colors and a lack of diversity in patterning. In fact, nothing could be farther from the truth. While there are more plain and standard color options available, you might be surprised by just how beautiful and fascinating granite tiles can be. Whether you want to keep things minimal or make a real statement, granite has you covered.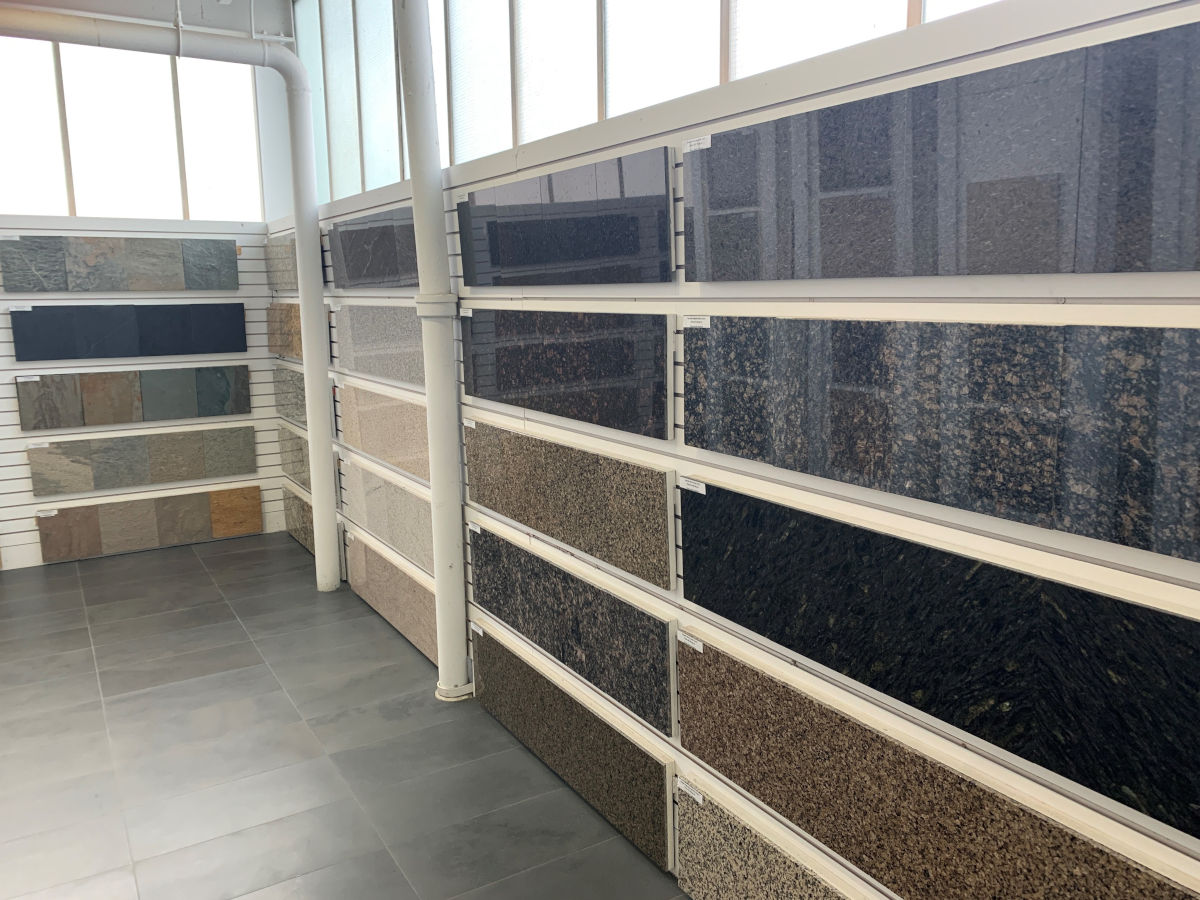 Granite tiles come in a wide variety of colors
Granite also has a natural cooling effect and is the coldest stone to the touch compared to other options. This means your house is kept cooler in the summer months and of course, the flipside of that is it can make things a little colder during the winter. As long as your residence is properly heated, this shouldn't be a problem but it's something to consider when making your final decision.
As with all tiles, it's always better to have a professional install them but this is especially true with granite tiles due to their weight. Granite is a heavy stone and the transportation and installation should be handled by an expert. Granite tiles should be sealed after installation to ensure you can enjoy them for years to come.
If you're thinking long-term value, granite is the perfect choice to tile virtually any area of your home. It can withstand nearly anything you can throw at it and provide you with a reliable flooring solution for decades to come.
Conclusion
We've mentioned it throughout this article but there are a couple things that bear repeating to make sure you get the best experience from your natural stone tiles. Firstly, sealing is very important for all stone tiles, regardless of their durability or resistance to etching and straining. Secondly, it's always wise to purchase more tiles than you need in case some get damaged during installation and to have some on hand in case you need to replace tiles in the future.
With all of the options available, it can feel overwhelming to choose a material for your tiling needs. This article should act as a good starting point in the selection process but should ultimately be combined with the knowledge of an experienced salesperson in the industry.
Come visit us at Hari Stones at one of our three locations to see, feel and experience the stone tiles we have in stock. Our staff can assist you in selecting the best option for your style, taste and budget.
Written by Jesse Day, Inside Sales @ Hari Stones