09 October, 2020
Carrara and Calacatta Marble: What's the Difference?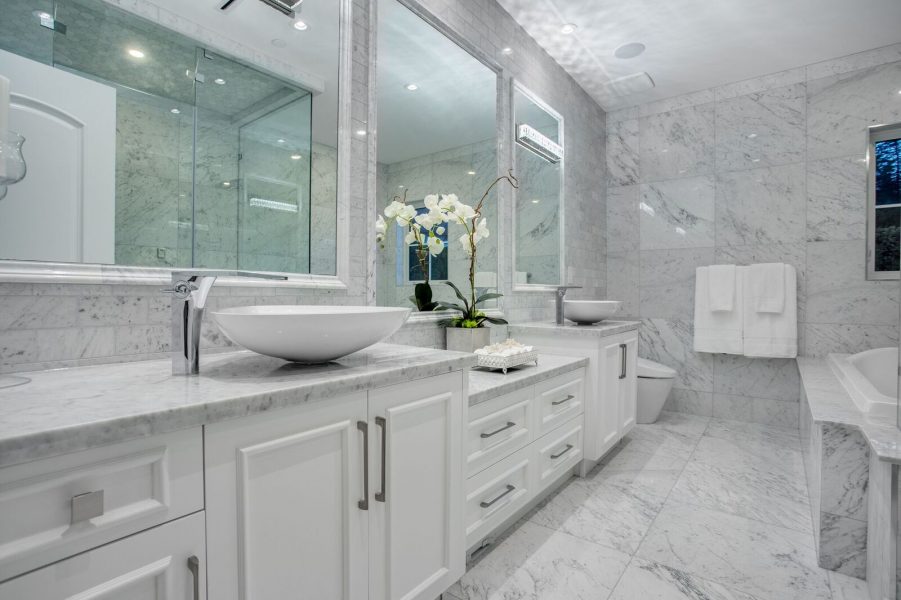 Italian marble has gained a reputation around the world as one of the more beautiful and desirable natural stone materials, and rightly so. Two of these marbles in particular have solidified their place in the stone industry, Carrara and Calacatta. They are both fine quality marbles that see a lot of use but there is often confusion over what makes them different, especially since they share many characteristics in common. We seek to clear that up and after reading this article, you'll be able to tell them apart and know what makes them unique.
One thing to mention before we dive in, natural stone can vary wildly in appearance from one block to the next and marble is no exception. Please consider these guidelines to be just that and note that you may come across Carrara and Calacatta slabs that differ from what is described below.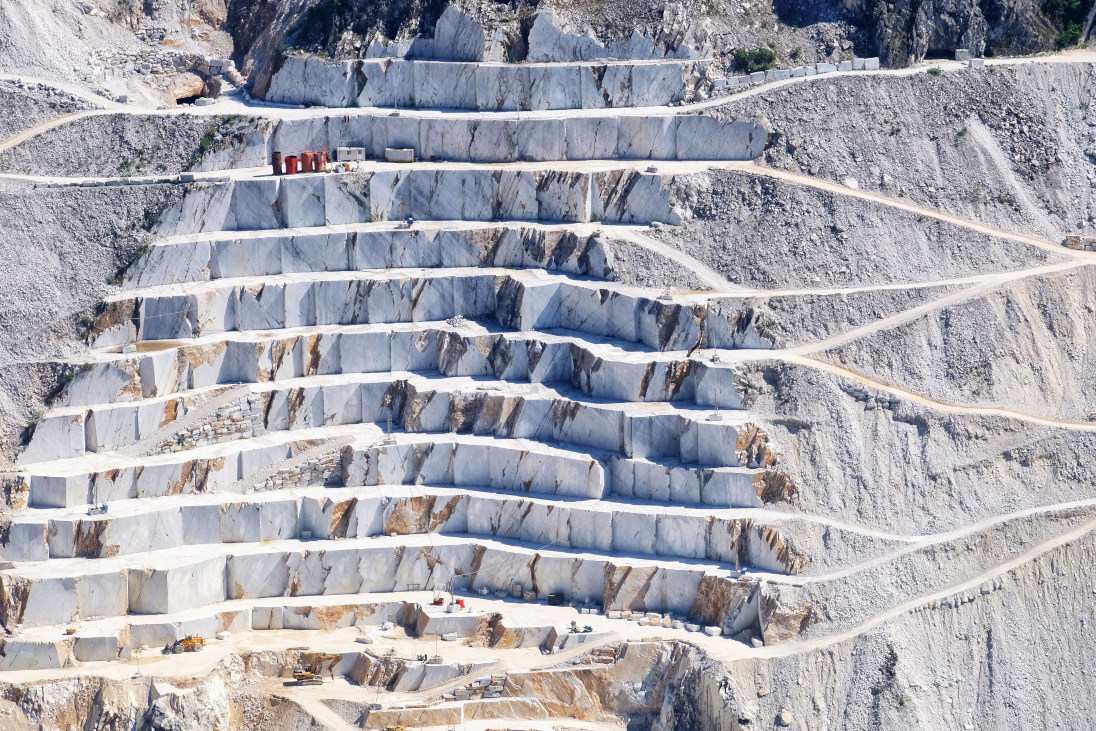 Marble quarry in Carrara, Italy
Carrara Marble
Carrara gets its namesake from the city in Tuscany where it's quarried and is one of the most frequently used marbles on the planet, with a history dating back to the construction of ancient Rome.
Carrara marble is characterized by a light grey background dominated by soft and feathery grey veins. The veining on Carrara marble tends to be thin, long and linear, without much empty space on a typical slab. The veins are often not clearly defined and appear to blend into the surface of the stone, instead of standing out.
Because Carrara has a subtle effect, it is highly versatile from a design point of view. It can easily blend in with and complement surrounding design elements, making it an ideal choice when you want to remain subtle while still maintaining a degree of sophistication.
It should also be noted that Carrara is more common than Calacatta and thus, is a lower-cost option. In fact, Carrara is some of the lowest-priced marble on average and so perfect for those who want to indulge in the luxury of marble without an extravagant price tag.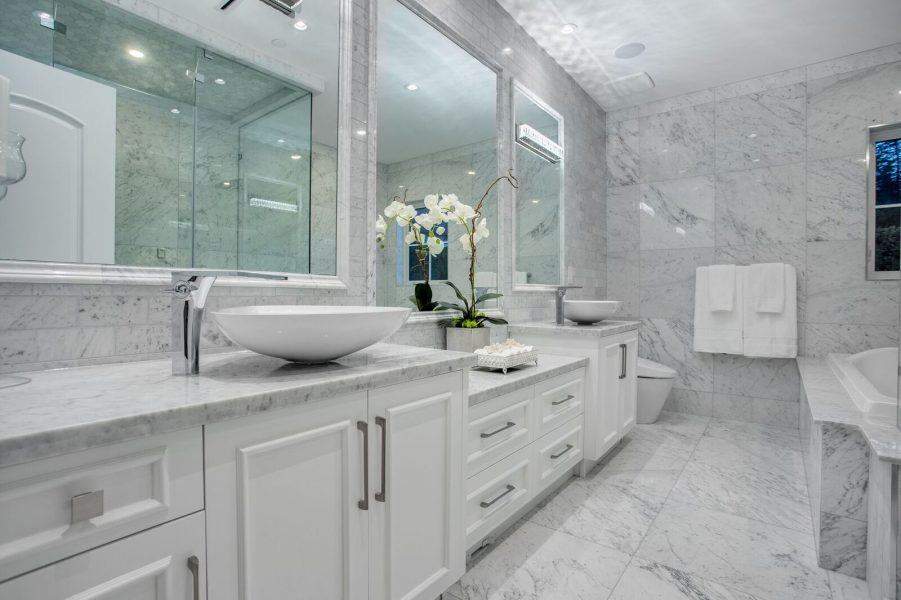 Carrara Marble in a Bathroom
Calacatta Marble
Calacatta is a marble that is also quarried in the city of Carrara but has some distinctive differences from Carrara marble that make it highly sought-after by homeowners.
Calacatta is characterized by a clear, white background and thicker, impactful veining that can be grey or gold/brown but is sometimes a combination of some or all of those colors. The veining here tends to be more distinctive than Carrara marble and less linear as well. The result is a stone that captures what many people believe to be the ideal marble look and the kind of patterning associated with marble luxury and prestige.
Calacatta has a powerful impact on any space of your home and so is best as the centerpiece of a design project, as opposed to a complementary aspect. If you choose Calacatta marble, use it to make a bold statement and try to match the other design elements in the room to the marble, not the other way around.
When it comes to price point, be prepared to shell out double or more the price you would for Carrara marble. This is because Calacatta is a rarer stone and so supply is more limited. In addition, the appearance of this marble is the most desired overall, allowing it to fetch a higher price.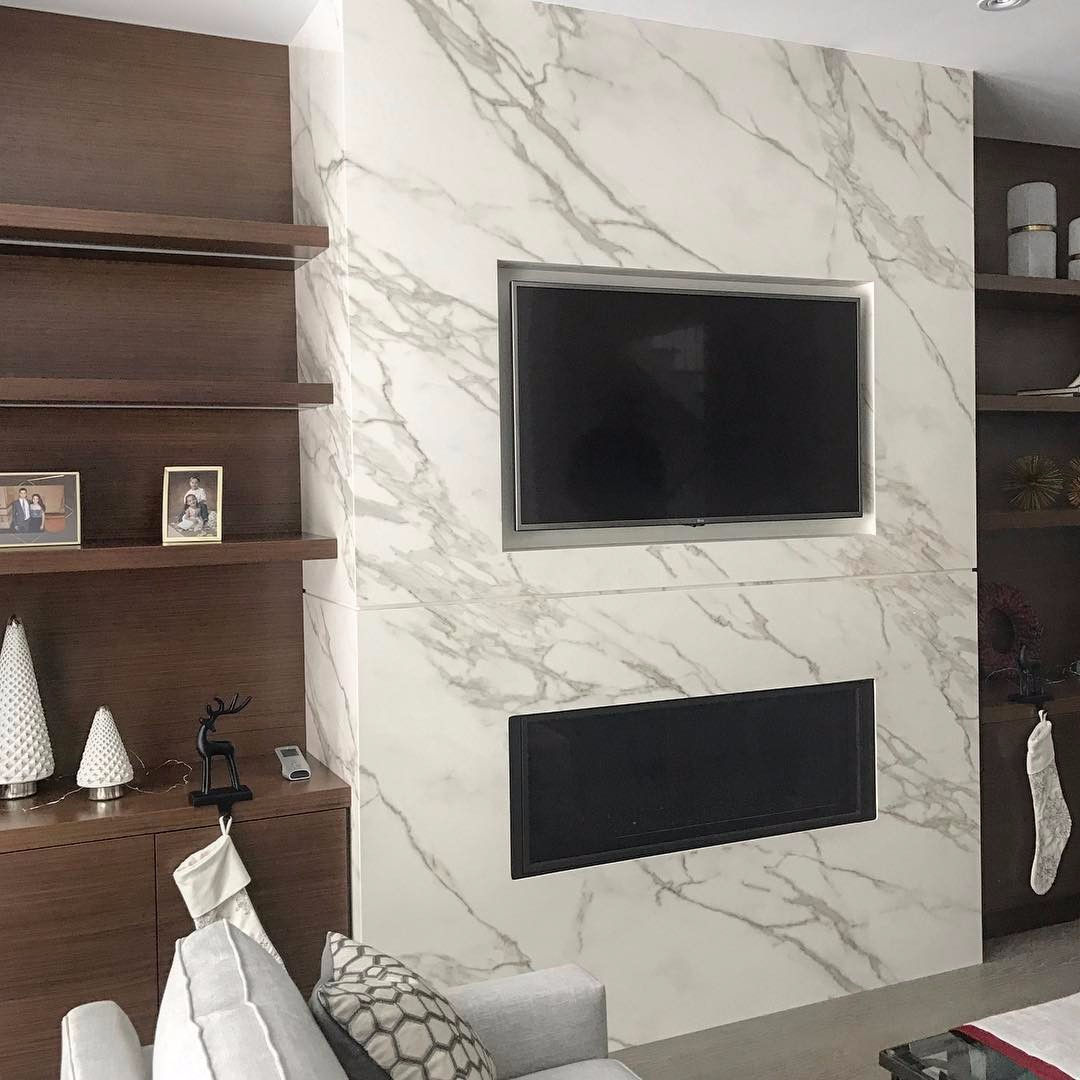 Carrara marble on a fireplace
Conclusion
While both Carrara and Calacatta are white and grey-based marbles from the same region in Italy, they are distinctly different stones with their own unique character. Which one you choose will depend on your aesthetic preferences and budget but know that either material is a fine choice for a variety of applications.
A lot of people are concerned with using marble as a countertop due to the fact that it can etch, stain and scratch easier than other natural stone such as granite and quartzite. We wrote an article about this issue that will inform you if marble is the right choice for your countertops and also another article on cleaning and caring for marble that will help you maintain your stone after it is installed.
As you may have noticed, this article has covered purely the differences in appearance between the two types of marble, as opposed to any differences in durability and quality. This is because any good stone supplier will have ensured that the physical properties of the marble they carry are effective for use and so there won't be major differences in this regard.
Hari Stones has been providing marble for more than 20 years to homeowners, architects, designers, contractors and stone fabricators. As a result, we source some of the finest quality marble Italy has to offer and our knowledgeable sales staff can guide you in your selection. Visit one of our showrooms and have a look at our vast selection of marble for yourself.
Written by Jesse Day, Inside Sales @ Hari Stones