12 February, 2018
6 Fantastic Ways to Use Marble Tiles in 2018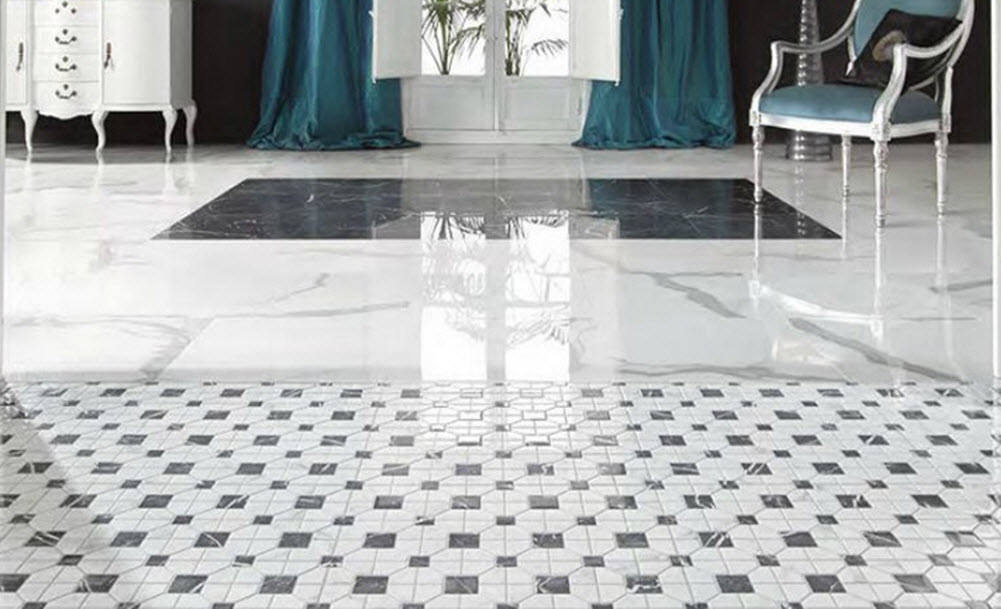 Marble tiles aren't going out of style any time soon, especially since this classic design fits into just about any décor with beauty and ease. With that in mind, when choosing marble tiles for your kitchen, hallway or bathroom, you don't have to stick to an old-fashioned look. There are so many great new textures, cuts and finishes that will give this tried-and-tested stone a chic, modern twist. In this post, we take you through 6 marble options that will keep your interiors right on trend throughout the coming seasons.
Matte Finish
Matte finish marble tiles land on the down-to-earth side of elegance, so they're an excellent choice for low-maintenance bathrooms. Because they're easier to maintain, matte tiles look great in busy areas that get a lot of use, where lots of polishing just isn't an option. The other plus-side of matte marble tiles is they give off a modern yet organic look that is both calming and sophisticated.
Neutral Cool
Neutral colours are a wonderful choice for marble tiling, as the stone naturally comes in plenty of muted hues. Not just fashionable for 2018, the benefits of opting for nudes and neutrals in your home will be even better appreciated down the line. Greys, beiges, creams, and whites, offset by a subtle accents, are ideal for decorating, as these earthy tones are easy to furnish and rarely go out of fashion.
Colour Pop
It might seem like the complete opposite of understated, but choosing a pop of colour in your marble tiles doesn't mean installing fire engine red or canary yellow walls and floors. Marble's hues are strong but mature, with deep greens and olive tones taking centre stage in a way that attracts but relaxes the eye. Straying away from cool neutrals makes an impression that can be even richer and more dignified than other stones.
High Gloss
If you're attracted to the glossy look, then there are plenty of gorgeous marble options to choose from. Selecting smaller cut tiles with a high shine for your walls will strike a perfect balance between sleek modernism and timeless quality. Choosing larger glossy tiles will give an old world effect that generally needs more buffing and overall maintenance, ideal for stately interiors and commercial buildings.
Geometric Cuts
Geometric style marble tiles are an unexpected way to modernize your bathrooms. They an be cut in a number of ways, from pentagonal to hexagonal,and more. If, for example, you're thinking of opting for a neutral effect, geometric cuts are a subtle way to interest the eye without overwhelming the observer with too much flash and colour.
Bigger is Better
For anyone who wants to go big with their designs, making the upgrade from marble tiles to marble slabs might be the best option. Marble slabs are larger, uninterrupted pieces of marble that can be awe-inspiring when used in the home. You get a true feel for the magnificence of this sedimentary rock when you see it in one large piece, whether used as a countertop, wall covering or floor.